Cheating in saffron
Saffron is the best and most expensive spice in the world. The limited production and high price have caused the cheaters to sell fake saffron to the customer instead of the original saffron. The rate of cheating in saffron is very high.
For information on the exact price of saffron, you can contact us via WhatsApp or our Contact us page. Also, you can visit our different packaging of saffron on our Buy saffron page.
The cheaters, regardless of the financial losses inflicted on saffron consumers, are only thinking of their greater profit and endangering people's health by producing fake saffron. With the advancement of technology, this work has become easier for these people, and every day they invent new methods for food fraud.
Fraud in saffron weakens its market, which in turn causes losses to the hardworking farmers of our land.
If you are planning to buy saffron, we suggest you visit our different packaging of saffron on our Buy saffron page.
In this article, we will examine the various methods of fraud in saffron and ways to identify them.
The original and fake saffron
Saffron is one of those products that you should pay attention to when buying to choose the best type. There are many ways to cheat in the sale of saffron, and we will describe a few of them.
Increasing the weight of saffron by adding impurities to it:
One of the methods that is used in cheating in saffron is Spraying small particles of water or storing and placing saffron in wet places causes the weight of saffron to increase. In this method, professional fraudsters with high skill spray a certain amount of water on saffron stigmas, which is very difficult to detect.
In other cases, it adds substances such as sugar, salt, or honey to powdered saffron, which is difficult for the buyer to distinguish in appearance.
Coloring the whiteness (cream) of saffron:
This method is one of the most common methods of cheating in saffron. Cheaters mix saffron cream with the dye extracted from the saffron stigma and sell the white part of the saffron dye as the main saffron to the buyers. This method of fraud has no harm to human health and only the buyer suffers a financial loss.
Using artificial color in fake saffron
It is very dangerous to use the illegal dye "Tartrazine E102" called ("صفار الزعفران" or "Saffron yellow") which is also bought as a souvenir by the pilgrims of the House of God in recent years. This was also a method of cheating in saffron.
Consumption of this substance will cause the following diseases:
Hyperactivity in children
Digestive and asthmatic problems
Thyroid tumors
Exacerbation of migraine
Blurred vision
Allergies and skin problems such as purpura
In some cases, these artificial colors are used to dye saffron-like strands such as corn cobs which can be easily detected in the laboratory due to their low staining power.
Adding string-like ingredients to the main saffron
In this method, string-like materials that are almost similar in appearance to saffron are added to a small amount of the original saffron to increase the likelihood of deceiving the customer. Another method of cheating in saffron was this way.
fake plant ingredients added to saffron usually include:
Marigold
Turmeric
Poppy flower
Pomegranate flower
Corn cobs
Clove
Wheat root
Ways to identify the original saffron from fake saffron
Saffron is a precious spice and at the same time has various medicinal properties and applications. So it is not surprising that cheaters are always looking for a way to deceive the buyers of this valuable spice.
Here are some ways to detect fake saffron.
Original saffron flavor
Original saffron has a bitter taste and sweet aroma. Having any taste other than his, such as saltiness or sweetness, indicates the addition of impurities of saffron.
Using straw paper
Pour some saffron on the straw paper and fold the paper, then gently press the paper. Open the paper. If you see the effect of fat on the paper, your saffron is fake.
The features of the original saffron
Saffron stigma has 3 strands and its end is trumpet-shaped.
Another appearance feature to consider is that saffron strands are curved but the corn cob is straight.
If the saffron stigmas are very shiny, it is doubtful and it should be sent to the laboratory.
Using methane gas flame
Methane gas is a powerful detector for detecting fake saffron.
Place the saffron pieces on a butane gas flame. If the saffron is pure, it will turn purple or orange, which is related to its potassium. But if it is fake, yellow saffron is produced.
Diagnosis with gasoline
It is interesting to know that saffron does not dissolve in gasoline. If you pour some saffron in gasoline and the gasoline turns colored, your saffron is fake and has artificial colors.
Using boiling water
Pour some saffron in boiling water and wait a few minutes. If the color of the saffron strands turns white, your saffron is fake. Because the color of the original saffron does not change quickly in boiling water.
Using baking soda
Baking soda is one of the solvents of saffron. The original saffron turns yellow in baking soda and the fake saffron turns bright red.
About Ana Qayen saffron
Many people are looking for a place where they can buy saffron. We are a supplier of Iranian saffron and if you want to buy saffron, you have come to the right place. Our saffron is harvested from the city of Qayen in Iran, one of the most famous cities for the quality of saffron. This city is known as the city of saffron in Iran.
To buy saffron online, you may visit our Buy Iranian saffron page.
We also have another branch in Lyon, France, which makes it very easy for you to order in Europe. For information on the exact price of saffron, you can contact us through the Contact us page or WhatsApp.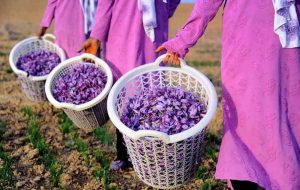 When you want to buy saffron, you should be sure about the quality of the saffron that you are buying. Our saffron has got a European certificate from SAI CHIMIE lab which is one of the most famous labs in Europe.
Also, our saffron is packaged in different and luxurious packages. You can see our different packing below. You can buy saffron with these packages in our online shop.
You can also find us on social media via Instagram, Facebook, Linkedin, Pinterest, and Youtube.