Cold saffron drink
You can use saffron in making cold saffron drink. This drink can be useful for people who suffer from stress, anxiety, and depression.
Types of vitamins in the cold saffron drink are A, C, E, and B vitamins such as B1, B2, and B6. It is full of iron, sodium, carbohydrates, potassium, fiber, magnesium, calcium, selenium, folic acid, manganese, and zinc.
To buy pure Iranian saffron, you may visit our different and luxurious products on our Buy saffron page.
As mentioned earlier, this cold saffron drink can bring joy and happiness and eliminate depression and anxiety. The cold saffron drink is very effective for better digestion, strengthening the stomach. This syrup improves patients with asthma, blood pressure and lipids, and blood sugar.
Due to its hematopoietic properties, it strengthens the heart and the general condition of the body. This syrup can be used in people with Alzheimer's and Parkinson's because it strengthens memory and increases productivity in the brain.
One of the most obvious properties of saffron syrup is its use before and after menstruation because it accelerates menstruation and relieves menstrual pain.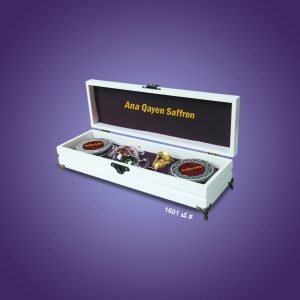 Note: Do not use this syrup during pregnancy because it can cause miscarriage, but it is not forbidden during breastfeeding.
Other properties of saffron syrup include strengthening sexual power, relieving nervous tension and insomnia, cleansing the urinary tract, preventing premature aging, and strengthening the skin and hair.
Saffron drink for baby
Saffron has many medicinal properties and can be used to treat depression, asthma and improve the symptoms of painful menstrual periods. It also has many health benefits for children associated with consuming this spice. You can give your 6-month-old babies a mixture of saffron and breast milk.
Improve abdominal pain
Abdominal and stomach pain is a problem that usually occurs in children due to overeating, overeating, long intervals between meals, or eating foods that are not suitable for them. Saffron has astringent properties that help detoxify and relieve stomach pain.
Improve vision
Saffron is full of compounds that are essential for improving vision in children. Saffron is also high in crocin and crocetin, which helps treat conjunctivitis or redness of the eye and improves retinal blood flow.
Strengthens and strengthens bones
Saffron helps children and children to promote their bone health. Saffron enhances calcium absorption and helps build strong bones in infants. So add a little saffron to the milk and give it to the babies.
Improves and strengthens the immune system
Coughing, sneezing, and breathing problems are usually caused by seasonal changes or allergies. Saffron is very effective in treating respiratory problems and improving respiratory function. Saffron can be used as a medicine for children with chronic asthma. This substance will be very useful in treating fever because saffron compounds contain crocin, which helps lower high body temperature.
Gum strengthening and oral hygiene
Because babies do not brush their teeth, their mouths should be disinfected to ensure good oral hygiene. Daily massage of baby's gums with saffron helps keep the mouth and tongue clean and reduces inflammation and pain in the mouth.
Reduces inflammation
Saffron has anti-inflammatory properties that help reduce swelling and inflammation in the body. Saffron acts as a disinfectant and reduces inflammation caused by colds and coughs.
Saffron can help anxious and stressed children
One of the biggest benefits of saffron for children is the treatment of anxiety disorder. First of all, using saffron in baby food can help improve its taste and aroma. But a small trial conducted by the university found that saffron may reduce anxiety in children.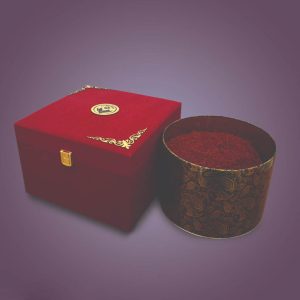 Saffron syrup
You can combine the saffron syrup with other additives, and in addition to a better taste, you can also use their properties along with saffron. In the following, we will review the method for preparing saffron syrup with other nutrients.
Saffron and rose syrup
Ingredients for preparing saffron and rose syrup:
• Half a liter of water
• A glass of rose water
• A glass of Musk willow water
• Half a glass of lukewarm boiling water
• Five to six tablespoons of honey
• Half a tablespoon of Ana Qayen saffron
How to prepare saffron and rose syrup
Pour the water, rose, and Musk willow water into a bowl and mix well.
Dissolve honey in boiling water, then add saffron.
Add the honey solution, water, and saffron to the ingredients and then pour it in a glass and after cooling, drink it with a few pieces of ice.
Does saffron really work for weight loss?
The price of saffron in France
The price of a kilo of Iranian saffron in Egypt
The price of saffron in Constantine
Buying saffron in Arab countries 2022
Does saffron prevent coronavirus?
The stages of sending and transporting saffron for export
Types of saffron scales and their precision
Properties of saffron in Islamic and Iranian medicine
The price of a kilo of saffron in Sudan
About Ana Qayen saffron
Ana Qayen saffron supplies saffron from Iran. We are a supplier of pure Iranian saffron. Our saffron is harvested from the city of Qayen in Iran.
To buy saffron from Qayen city, you may visit our Buy Iranian saffron page.
We also have another branch in Lyon, France, which makes it very easy for you to order in Europe. For information on the exact price of saffron, you can contact us through the Contact us page or WhatsApp.
Also, our saffron is packaged in different and luxurious packages. You can see our different packing below.