In this post, we show you how to make a very delicious dessert with saffron. Please follow our Youtube channel for more videos.
Where does saffron come from?
firstly before making saffron dessert we must know where does saffron come from? the answer is the spice originates from a flower called crocus sativus—commonly known as the "saffron crocus." It is believed that saffron originated and was first cultivated in Greece, but today the spice is primarily grown in Iran, Greece, Morocco, and India. While micro-scale production of saffron does exist in the United States, most saffron found here is imported.
For information on the exact price of saffron, you can check the Iranian saffron price Page or you can contact us via WhatsApp or our Contact us page. Also, you can visit our different packaging of saffron on our Buy saffron online page.
What does it taste like?
Saffron is extremely subtle and fragrant. The slightly sweet, luxurious taste is enigmatic—it's tricky to describe but instantly recognizable in a dish. As annoying as it is to say, you know it when you taste it.
Why is it so expensive?
Each flower produces only three threads (stigmas) of saffron, and it blooms for only one week each year. The saffron must be harvested—by hand!—in the mid-morning when the flowers are still closed to protect the delicate stigmas inside. It takes about 1,000 flowers to produce just one ounce of saffron. That's why you'll pay $10 to $13 per gram for the real deal. To make sure you're getting the best stuff, take a sniff—you won't saffron that smells a bit like sweet hay. It should also have all red stigmas, no yellow stamens.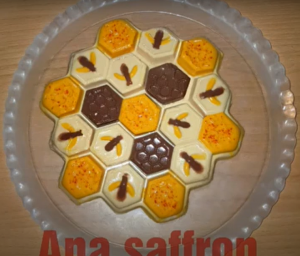 Ingredients Delicious dessert
Gelatin powder ……… 2.5 spoon
water ……… a glass
condensed milk ……… a glass
cream ……… 1/2 glass
milk ……… a glass
cocoa powder ……… a spoon
saffron ……… a teaspoon
Recipe
firstly we pour the water into the bowl and …
watch the video below
How to make saffron date Halva
Full knowledge about saffron plant
How to make Iranian saffron Tahchin
Where is the best saffron grown in Iran?
Prohibitions on the use of saffron during pregnancy
Medicinal properties of saffron
How much saffron are we allowed to eat?
About Ana Qayen saffron
Many people are looking for a place where they can buy Iranian saffron. We are a supplier of Iranian saffron and if you want to buy saffron in bulk, you have come to the right place. Our saffron is harvested from the city of Qayen in Iran, one of the most famous cities for the quality of saffron. This city is known as the city of saffron in Iran.
To buy saffron in bulk, you may visit our Buy saffron online page. We also have another branch in Lyon, France, which makes it very easy for you to order in Europe. For information on the exact price of saffron, you can contact us through the Contact us page or WhatsApp.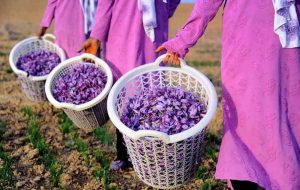 When you want to buy saffron in bulk, you should be sure about the quality of the saffron that you are buying. Our saffron has got a European certificate from SAI CHIMIE lab which is one of the most famous labs in Europe. Also, our saffron is packaged in different and luxurious packages. You can see our different packing below. You can buy saffron in bulk with these packages in our online shop.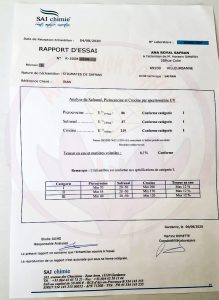 You can also find us on social media via Instagram, Facebook, Linkedin, Pinterest, and Youtube. In the following, you can see our different packaging of saffron.