" Sholeh zard " are a delicious and sweet dessert. One of the popular reasons is that it is easy to cook.
Ingredients for " Sholeh zard "
Half a grain rice : 2 cups
sugar : 4 cups
water : 12 glasses
Vegetable butter : 50 g
Saffron : 4.6 grams
Rosewater : 1 cup
liquid oil : 1 tablespoon
cinnamon powder : as needed
Sliced almonds : 1/4 cup
Slice pistachios, almonds and cinnamon to decorate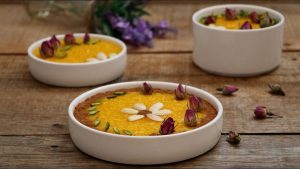 The important thing to know about the amount of "Sholeh zard" is that whatever size you choose, you should use the same amount of water and sugar in multiples for the "Sholeh zard". This means that if you take a measure of rice, you should use 2 glasses of sugar and 6 glasses of water with the same measure. This ratio is common when making a "Sholeh zard".
The first step
First, you have to wash the rice and soak it for 12 to 24 hours from the night before with 12 to 13 glasses of water. At this stage, you should not stir the rice at all.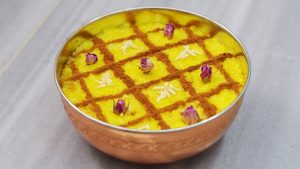 The second step
In the next step, you have to grind the saffron and brew it with water and soak the almond slices with a glass of pear that we had to multiply the almond aroma.
When the rice has blossomed and absorbed the water, reduce the heat and at this stage you should stir the rice. The important and significant point at this stage is that you should not add water to your rice anymore because this will cause flaking. The prepared yolk will drop when you eat and spoon.
When your rice is completely softened and so-called sagging, you should add your sugar and stir and do not worry at all that your rice was hardening because by adding sugar, the rice will loosen again and do not add water to your rice in any way, and that's it. Stir constantly for a quarter of an hour so that it does not settle.
After this time, you can add the sliced almonds and pears that were mixed together to your "Sholeh zard" ingredients and let it cook for 5 to 10 minutes with the rest of the ingredients and stir gently. After this step, the saffron is brewed. Pour in and stir for 10 minutes.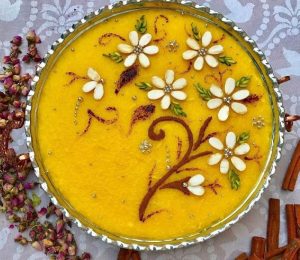 The size of your saffron should be such that your "Sholeh zard" turns orange. After this step, we add butter and mix it, and to make your "Sholeh zard" clearer, we use the said amount of liquid oil. After boiling the butter with the rest of the ingredients for 5 to 10 minutes, put it in a bowl until it is completely brewed.
Then serve the "Sholeh zard" in a suitable dish and garnish with cinnamon, sliced pistachios and almonds.
Enjoy your dessert !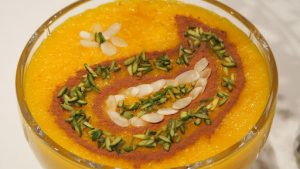 You can also follow our Instagram or Facebook pages for further information on saffron.
And check our other articles on our website .
Also visit our Arabic website for purchase in Arab countries.
You may find these articles useful.
Delicious saffron kashmiri lamb
Recipe of saffron digche (Iranian food)
Properties of saffron for hair
The effect of saffron tea on brain function
Strengthen the memory with saffron
Recipe of saffron chicken kebab