Properties of saffron in Islamic and Iranian medicine
Saffron is a plant with underground stems that emerge from two bulbs. Its bulbs are hard and covered with thin, brown membranes.
The part used in this plant is the end area of ​​the cream and its stigma, which is bought and sold under the name of saffron. The smell of saffron is strong and its taste is bitter and a little spicy. This plant is used for flavoring and
coloring foods and also has medicinal uses.
For information on the exact price of saffron, you can contact us via WhatsApp or our Contact us page. Also, you can visit our different packaging of saffron on our Buy saffron page.
Saffron is a bulb plant with light purple flowers that are grown in temperate regions. The bottom of the saffron stem has a protrusion and this protrusion is the same as the saffron bulb.
Saffron is a plant dye that is mostly used in Ghaenat and Kerman. Ghaenat saffron is in the first place and Kerman saffron is in the second place in terms of quality.
There are strings among the flowers of saffron and there are three to four strands in each flower. Those large strands are colorful and fragrant, and what is thin, pale, and odorless is not saffron.
Some may look at saffron as a flavoring or food coloring, but from the perspective of traditional medicine, saffron has a lot of special nutrients with unique properties.
Saffron in Islamic medicine
Saffron is a plant that has a warm and dry temperament and has many clinical and therapeutic uses. According to the main sources of traditional medicine, it is at the level of two degrees of warmth and one degree of dryness. At the same time, it is mentioned in the book Makhzan al-Adawiyah that some scholars have called it the third grade in terms of warmth and a second grade in terms of dryness.
Saffron is a plant that in many cases has medicinal aspects and has positive effects in the treatment of some diseases.
Saffron in prophetic medicine
Saffron is a special place in Iranian cuisine, and many Iranian women use it in their food for its beautiful color and pleasant smell. Do you know the position of saffron in terms of traditional medicine?
* Consumption of saffron tea helps digestion, is a pain reliever and regulator, and stimulates the nerves. It is hematopoietic and facilitates blood circulation, eliminates postpartum hemorrhage, and enhances sexual potency.
* Saffron purifies and strengthens the liver and helps relieve cough.
* Saffron tea cleanses the kidneys and bladder. It is sedative, hypnotic and anticonvulsant. It relieves flatulence, is a diuretic, and can even lighten facial skin.
* It is recommended that obese people with a cold temper consume more saffron.
* Saffron is effective in strengthening memory and learning, lowering blood pressure, lowering blood lipids, treating asthma, relieving bloating, treating seizures, and toothache.
* A person with a hot liver may not benefit much from saffron, but most people in society are recommended to consume saffron.
From the perspective of traditional medicine, saffron increases the desire and penetration of food and drugs into the heart. It is also joyful and strengthens the heart.
Saffron in modern medicine
Saffron is one of the medicinal plants that is exhilarating if consumed normally. But if consumed in excess, it causes a lot of laughter.
In traditional medicine, saffron is used as a sedative, analgesic, antispasmodic, and stomach tonic, and in nutrition, it is aromatic flavoring and coloring. Due to the very thick color that is produced, it is also used in the cosmetics, pharmaceutical, and confectionery industries.
About Ana Qayen saffron
Many people are looking for a place where they can buy saffron. We are a supplier of Iranian saffron and if you want to buy saffron, you have come to the right place. Our saffron is harvested from the city of Qayen in Iran, one of the most famous cities for the quality of saffron. This city is known as the city of saffron in Iran.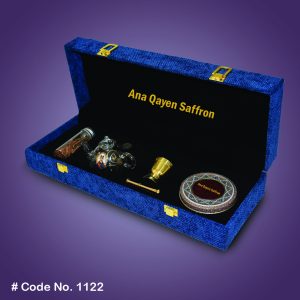 To buy saffron online, you may visit our Buy Iranian saffron page.
We also have another branch in Lyon, France, which makes it very easy for you to order in Europe. For information on the exact price of saffron, you can contact us through the Contact us page or WhatsApp.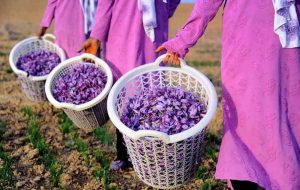 When you want to buy saffron, you should be sure about the quality of the saffron that you are buying. Our saffron has got a European certificate from SAI CHIMIE lab which is one of the most famous labs in Europe.
Also, our saffron is packaged in different and luxurious packages. You can see our different packing below. You can buy saffron with these packages in our online shop.
You can also find us on social media via Instagram, Facebook, Linkedin, Pinterest, and Youtube.