How to make Saffron cupcakes
Saffron cupcakes are one of those cakes that have a lot of fans. Cupcakes can be made with different flavors. In this article, we want to review the recipe for a delicious saffron cupcake.
To make saffron cupcakes, you must first prepare cupcake molds from confectionery supplies and then prepare the following ingredients.
Ingredients :
Flour: Two glasses
Sugar: A glass
Milk: A glass
Eggs: 3 pcs
Liquid oil: half a glass
Brewed saffron: two tablespoons
Vanilla: Two teaspoons
Baking powder: a teaspoon
Almond slices: as much as necessary to decorate
Steps to make saffron cupcakes :
We must first break the eggs in a large bowl and then add the vanilla and sugar. Stir the ingredients until they are creamy and elastic. Then we add milk to it. In the next step, add liquid oil to the saffron cupcake ingredients and stir.
Now it is time to add flour and baking powder. Slowly add flour and baking powder to the cupcake ingredients and mix well. Add the infused saffron to the ingredients and mix gently again.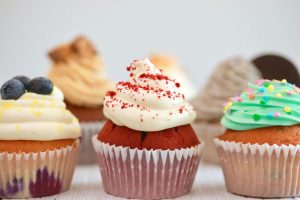 Grease the paper cup cake tin a little. Then pour the ingredients into the mold until the mold is full. Pour a little sliced ​​almond on the ingredients. Put the ingredients in the oven, which has been preheated for a quarter, until the cupcakes are cooked. Note that the duration of 40 minutes and a temperature of 175 degrees is suitable for baking saffron cupcakes.
We offer the best Iranian saffron (Super Negin) with high quality. To purchase our product you may visit this page. It is worth mentioning that our saffron has passed SAI CHIMIE standard tests.
You can also follow our Instagram or Facebook pages for further information on saffron.
And check our other articles on our website .
Also visit our Arabic website for purchase in Arab countries.
You may find these articles useful.
Delicious saffron kashmiri lamb
Recipe of saffron digche (Iranian food)
Properties of saffron for hair
The effect of saffron tea on brain function
Strengthen the memory with saffron
How to make saffron Sholeh zard
Recipe of saffron chicken kebab