Saffron Digche is a delicious dessert that is several times tastier than Sholeh zard. In this paper we will review the recipe of Iranian saffron digche. let's begin !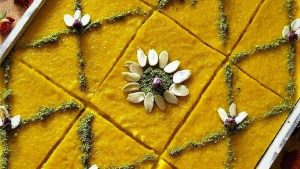 Ingredient of saffron digche
Rice 1 kg
Sugar 1.5 kg
Milk 3 kg
Cardamom 20 g
Rose a glass
Solid oil or butter 200 g
Now you know the recipe, let's cook.
Recipe of saffron digche
Step 1 :
To make saffron digche grind cardamom and saffron and mix with rose. Soak the rice in some water for an hour.
In a saucepan, pour a third of the amount of water and put it on a low flame to boil. Then pour the soaked rice into the pot and stir regularly until it is half cooked.
Pour one-third of the milk into the pot and stir regularly to harden a little. Pour the second one-third of the milk over the rice and stir again to harden a little like the previous step. Then pour the rest of the milk into the pot and stir as much as before to harden a little
Note that during these steps, we must stir regularly so that it does not stick to the bottom of the pot; Because the more we stir, the more milk is mixed with rice.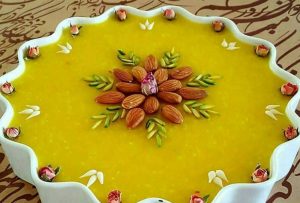 Step 2:
Add the sugar in two steps and stir after each step, then strain the mixture of rose, cardamom and Ana qayen saffron that we prepared in the first step with a strainer and add it to the pot. Note that if we do not strain it, the cardamom seeds, which are black, will be seen inside the pot and will make the saffron digche look ugly.
Then add butter or solid oil, cover the pot with a steamer, reduce the heat and wait for 20 minutes for it to brew.
Step 3
Prepare a high wall tray or dish and after brewing, gently pour and flatten the pot inside and leave it for 5 or 6 hours to cool completely.
Then, with a knife, we cut the pot in any way we want. Usually, Iranians cut the pot into a rhombus shape and decorate it with pistachio powder.
Now your saffron digche is ready and you can enjoy eating it.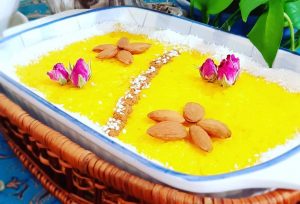 We offer the best Iranian saffron (Super Negin) with high quality. To purchase our product you may visit this page. It is worth mentioning that our saffron has passed SAI CHIMIE standard tests.
You can also follow our Instagram or Facebook pages for further information on saffron.
And check our other articles on our website.
Also, visit our Arabic website for purchase in Arab countries.
You may find these articles useful.
Delicious saffron Kashmiri lamb
Properties of saffron for hair
The effect of saffron tea on brain function
Strengthen the memory with saffron
How to make saffron Sholeh zard
Recipe of saffron chicken kebab