In this article, we will review some of saffron foods.
Saffron foods
If we want to list the foods, sweets and drinks in which the saffron is used, it may not be possible. However, a short list of foods, sweets and drinks can be brought. A handful of examples:
1-Use of saffron as a spice in chicken kebab (you may read the recipe here)
2- Using saffron as a colorant for meat dishes
3- Using saffron as a coloring and flavoring in brewed rice (like tah chin and Iranian saffron rice)
4- Using saffron as a coloring and decorating in sweets (like really delicious desserts)
5- Using saffron as a coloring and flavoring in syrups and beverages
6- Using saffron petals as a natural food coloring
7- Using petals to prepare jam (saffron jam)
8- Using saffron as the most important seasoning of all jams
Imagine that there are dozens of examples for each of the above. For example, the people of the southern region of the country of Iran prepare the fish with only salt and vinegar, but when they want to serve a dear and honorable guest, they add a little saffron to it, and just a few saffron stains, suddenly color and gives a different effect to the taste and smell of food.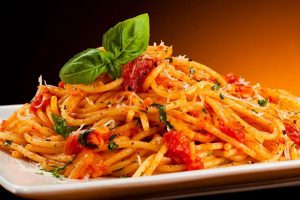 Saffron foods
Masghati of Shiraz, halva of Yazd, Sohan of Qom, Kermanshahi bread, Ranginak of Khuzestan, date cake of Lorestan, Qutab of Kerman and many other sweets are some of the most delicious sweets produced in different cities of Iran and saffron has an effective role in their preparation. Most of these sweets have gained fame beyond the borders of Iran.
In addition to Iranian food, saffron is known and used as an important condiment in some countries of the world. For example, the food of the people of northern Italy, as well as the south of Switzerland, and the famous Spanish food, which is one of the favorite dishes of "Federico Garlia Lorca", the late and famous Spanish poet.
About Ana Qayen
We are a supplier of Iranian saffron and we supply saffron from the best fields of saffron in Iran. It should be mentioned that nearly 90 percent of saffron of the world is produced in Iran. We have also an agency in Lyon, France and you can also buy our saffron in Europe.
Apart from saffron, we also supply other products of Iran including pistachio, rosebuds, Mazafati Date, and barberry. If you want to buy any type of product from Iran, we can supply you. You may contact us via the Contact us page or WhatsApp. Also, you may see our different saffron packagings on our Buy saffron online page.
When you want to buy saffron in bulk, you should be sure about the quality of the saffron that you are buying. Our saffron has got a European certificate from SAI CHIMIE lab which is one of the most famous labs in Europe.
Also, our saffron is packaged in different and luxurious packages. You can see our different packing below. You can buy saffron in bulk with these packages in our online shop. You can also find us on social media via Instagram, Facebook, Linkedin, Pinterest, and Youtube. In the following, you can see our different packaging of saffron.