Saffron poached pears recipe
Saffron poached pears is a easy dessert to make and prove that saffron isn't just for savory foods. you can make it when you are bored.
Let's begin.
Ingredients of Saffron poached pears
 4 pcs peeled and halved pears
½ teaspoon of saffron
 4 cups of water
 ½ cup apple juice or apple cider vinegar
 ¼ cup of brown sugar
 1 cinnamon stick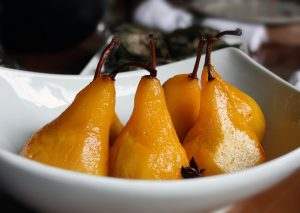 Recipe of Saffron poached pears
Combine all of the ingredients in a large pot and bring it to a boil.
Add pcs pear halves and reduce liquid to a simmer. Cook it for 15-20 minutes. After that remove pears and set them aside on serving dish.
Turn the heat to high and reduce the liquid until it forms a thick consistency. In the end remove pot from heat, drizzle liquid over pears, and serve.
We offer the best Iranian saffron (Super Negin) with high quality. To purchase our product you may visit this page. It is worth mentioning that our saffron has passed SAI CHIMIE standard tests.
You can also follow our Instagram or Facebook pages for further information on saffron.
And check our other articles on our website .
Also visit our Arabic website for purchase in Arab countries.
You may find these articles useful.
Delicious saffron kashmiri lamb
Recipe of saffron digche (Iranian food)
Properties of saffron for hair
The effect of saffron tea on brain function
Strengthen the memory with saffron
How to make saffron Sholeh zard
Recipe of saffron chicken kebab