How to make Saffron spaghetti
Saffron spaghetti is one of delicious dessert that can be made with saffron. In this paper we will review the recipe of saffron spaghetti. Hope enjoy!
Ingredients of Saffron spaghetti
To make a delicious saffron spaghetti you need these :
1 table spoon jasmine buds, dried
1 table spoon honey
A little saffron or more as needed
Salt as needed
2 sticks butter, unsalted
1 table spoon chamomile flowers, dried
1 table spoon flowers for garnish if you want, fresh
2 table spoon yellow cornmeal
1 pound spaghetti
2 table spoon ground calendula, dried
Instructions of spaghetti
First to make saffron spaghetti you have to make the jasmine broth. In a medium saucepan, bring 1 3⁄4 cups water to 100°. Now add the jasmine; let the jasmine steep for approximately 10 minutes. After that you have to strain out the jasmine, then stir in the honey, saffron, and the salt.
After the first step you should on low heat and In a small saucepan , add the butter and cook until melted but not simmering (about 130°) for 10 minutes. Add the chamomile (dried) and steep it for 10 minutes; and then strain.
In the meantime, over medium heat and in a dry medium skillet , add the cornmeal and then 1⁄2 teaspoon salt. After that Cook, then stir and stir, for 11–13 minutes until it is toasted. after that transfer it to a bowl and reserve.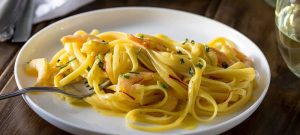 In the next step you have to bring a large pot of salted boiled water. Add the jasmine water to a large skillet over medium heat. Cook the pasta in the boiling water for 4 minutes until it is softened slightly. By using tongs, transfer the pasta to the jasmine broth. And then for  3–5 minutes cook it, tossing and adding pasta water as needed, until al dente.
In the final step remove the pasta to a platter and then add three-quarters of the chamomile butter. Season it with salt to taste and toss to coat. Dust with the cornmeal, top with the remaining butter, and sprinkle with the calendula powder and chamomile flowers.
We offer the best Iranian saffron (Super Negin) with high quality. To purchase our product you may visit this page. It is worth mentioning that our saffron has passed SAI CHIMIE standard tests.
You can also follow our Instagram or Facebook pages for further information on saffron.
And check our other articles on our website .
Also visit our Arabic website for purchase in Arab countries.
You may find these articles useful.
Delicious saffron kashmiri lamb
Recipe of saffron digche (Iranian food)
Properties of saffron for hair
The effect of saffron tea on brain function
Strengthen the memory with saffron
How to make saffron Sholeh zard
Recipe of saffron chicken kebab