Description
Buy Iranian saffron online
Saffron price is different all around the world, However, the cheapest price can be found where the saffron is grown. You can find different products with the highest quality and you can buy Iranian saffron online on our website.
This type of packaging contains 500 grams of Iranian saffron with free DHL. All the products of Ana saffron are of Super Negin type. If you need more information on different types of saffron you may refer to this page to acquire more information.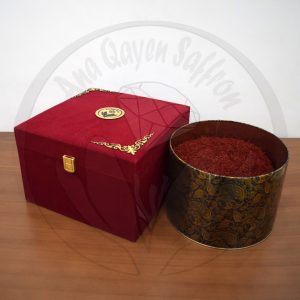 It is worth mentioning that our saffron is harvested from the fields of Qayen city. Then based on the flowers and the quality, different types of the saffron is produced. The method of manufacturing that we use to produce the saffron is indirect heat. Therefore, the aroma of our saffron is kept.
That's why when you open the bottles or the cans, you can smell the aroma of the real saffron.
If you want to buy Iranian saffron online in Europe, you may contact our agent in France, Lyon. You can be easily in touch via WhatsApp.
We usually deliver our products by DHL and Aramex. The delivery time is usually between 3 to 5 working days. If you want to pay less for the delivery, EMS service is also available. This type of service may take up to 2 weeks. Before, finalizing the order, please contact us via WhatsApp to get complete information.
Apart from saffron, we also offer the bottles of saffron. You can visit this page to see different bottles of saffron available.
For the wholesale saffron price, you may contact via this page or WhatsApp.
You can also follow our Instagram or Facebook pages for further information on saffron.
And check our other articles on our website .