Indian saffron rice
The saffrons of India is more dark in its color than the Spanish saffron , and it gives a better flavor to our rice. The saffron should always be steeped in hot water ahead of time. In this article, we will review the recipe of Indian saffron rice.
Let's begin.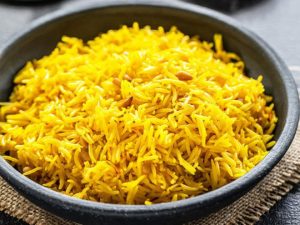 Ingredient
Recipe :
First of all you must steep the powdered saffron in 1/2 cup of boiling water. After that melt the butter over medium-high heat in a skillet that can be tightly covered.
Then stir rice and salt in melted butter, you should stir constantly until the rice start to absorb the melted butter and become opaque. be careful to not brown the rice.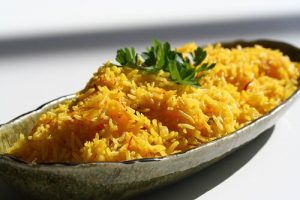 After that quickly pour in the remaining 1 1/2 cups boiling water along with the saffron water and cover that immediately and then reduce the heat.
In the last, cook it for 20 minutes and pay attention for best result don't remove the lid in the meantime that rice is cooking
. Cover immediately, reduce heat to low, and cook 20 minutes, or until all of the liquid is absorbed. For best results, do not remove the lid while the rice is cooking.
We offer the best Iranian saffron (Super Negin) with high quality. To purchase our product you may visit this page. It is worth mentioning that our saffron has passed SAI CHIMIE standard tests.
You can also follow our Instagram or Facebook pages for further information on saffron.
And check our other articles on our website .
Also visit our Arabic website for purchase in Arab countries.