Description
Luxury saffron pack is one of the best options on the table for gifts to relatives and friends. The luxury saffron pack contains 4 grams of Super Negin saffron, which is the best type of saffron and is used in export. Also, saffrons are placed in Khatam containers, which turns this package into a luxury gift. The cover of the luxury saffron pack is made of first-class velvet and is available in blue color.
Luxury saffron pack – 4 grams of Super Negin saffron
The luxury saffron pack includes a Khatam container. There are 4 grams of exported Super Negin saffron in this Khatam container. Also, next to the can, there is a jar of rose buds as a gift from Ana Qayen.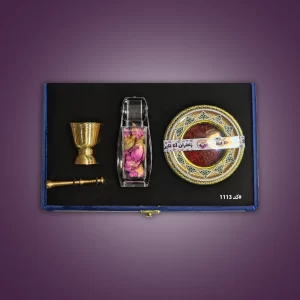 If you are looking for other designs, be sure to visit the Buy Saffron online page. On this page, there are other designs of gift packs with different sizes and prices. Also, if you are looking for the Saffron price per Kg, refer to the linked page.
In this video, you may see a close-up of this product below. 👇
Buy luxury saffron pack
If you are looking to buy luxury saffron packs in large quantities, there is no problem from our side. Be sure to contact us before ordering luxury saffron packs in large quantities; Because in high quantities, the price of luxury saffron packs is lower.
In the table below, you can see other specifications of the luxury saffron pack.
| | |
| --- | --- |
| Weight | 0.5 kg |
| Dimensions | 31 × 15 × 9 cm |
| Color | Red, Blue, Yellow |
| Box material | Velvet |
| Container Material | Can with Khatam design |
| Additional items | Rosebuds, A pestle and a mortar |
| Saffron type | Super Negin (Grade A) |
| Saffron Net Weight | 4 grams |
The price of luxury saffron pack
The price of the luxury saffron pack is listed at the top of this page. With a comparison among our colleagues, you will realize that the prices of saffron are very reasonable.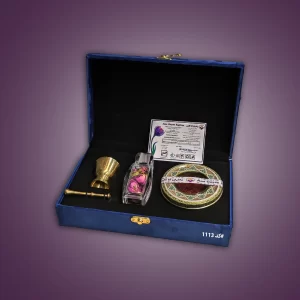 The saffron in this luxury saffron pack is of high quality and is harvested from the best farms in Iran. Everyone knows the quality of Iranian saffron. However, inside Iran, the quality of saffron is also different. The city of Qaen is one of the cities whose saffron is very famous among Iranians. Almost all Iranians know this city because of its saffron. Anaqain saffron is harvested from the best farms in Qaen City.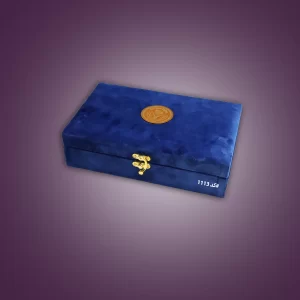 About Ana Qayen saffron
We are a supplier of Iranian saffron and we supply saffron from the best fields of saffron in Iran. It should be mentioned that nearly 90 percent of saffron in the world is produced in Iran. We have also an agency in Lyon, France and you can also buy our saffron in Europe.
Apart from saffron, we also supply other products from Iran including pistachio, rosebuds, Mazafati Date, and barberry. If you want to buy any type of product from Iran, we can supply you. You may contact us via the Contact Us page or WhatsApp. Also, you may see our different saffron packaging on our Buy Saffron online page.
When you want to buy saffron in bulk, you should be sure about the quality of the saffron that you are buying. Our saffron has got a European certificate from the SAI CHIMIE lab which is one of the most famous labs in Europe.
Also, our saffron is packaged in different and luxurious packages. You can see our different packing below. You can buy saffron in bulk with these packages in our online shop. You can also find us on social media via Instagram, Facebook, Linkedin, Pinterest, and Youtube. In the following, you can see our different packaging of saffron.