Description
Buy saffron gift box – 4 grams – code 1126
If you are looking for a luxury gift for the birthday of your acquaintance, friend, or family, buying saffron gift box is the right choice for you. Buying saffron gift box is filled with Super Negin saffron, which is the best type of saffron and is used in export. Also, in this box, there are 9 grams of original cardamom, which adds to the luxury of this package.
We will continue to give more explanations about buying saffron gift box.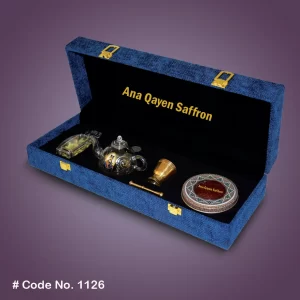 If you are looking for other designs, be sure to visit the Buy Saffron online page. On this page, there are other designs of gift packs with different sizes and prices. Also, if you are looking for the Saffron price per Kg, refer to the linked page.
In this video, you may see a close-up of this product below. 👇
In the table below, you can see more specifications of this product.
| | |
| --- | --- |
| Weight | 1 kg |
| Dimensions | 41 × 15 × 9 cm |
| Color | Red, Blue, Yellow |
| Container material | Can with Khatam design |
| Additional items | Glass teapot, a pestle and a mortar, cardamom |
| Saffron type | Super Negin (Grade A) |
| Saffron Net Weight | 4 grams |
| Box material | Velvet |
How is the saffron gift box delivered?
The delivery of saffron is often done via DHL or other types of post-service. The delivery usually takes 3 to 5 days worldwide. It is worth mentioning that the saffron is sent from our company in Lyon, France.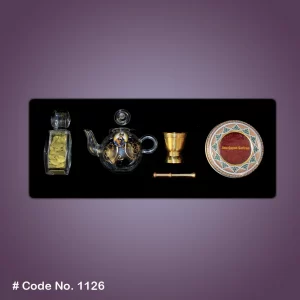 Does your saffron have European certificate?
Since saffron is a precious spice, many cheaters are looking for cheating in this red gold. They mix saffron with something else or they may color the white saffron. However, when the saffron is tested in the laboratory, the customers can make sure that there is no impurity in the saffron. Our saffron has got its certificate from the SAI CHIMIE lab. This lab has got a specialty in saffron. If you are buying for the first time from our website, you will definitely buy again. Because when you open the lid of the package, you will smell the aroma of saffron.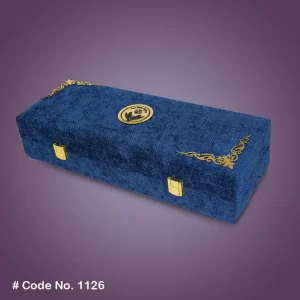 Do you have a company in Europe?
Since many of our customers are buying saffron in Europe, we established our company in Europe (Lyon, France). In this way, we can deal with our customers much easier. It is worth mentioning that all the transactions are done via our company in France. The saffron is also sent from France.
Can you send saffron to the United States and Canada?
Since we own a company in France, there is no problem with sending the saffron. We are able to send saffron anywhere. If you are in the US or in Canada and you want to be our agent, don't hesitate to leave us a message or contact our sales team via WhatsApp.
How many kilos of saffron are you able to supply each month?
As you know, Iran is the leading producer of saffron in the world. Iran produces nearly 500 tons of saffron each year which is 90 percent of saffron production of the world. As a supplier, we are able to supply tons of saffron each month. So don't worry about supplying the saffron. If you want to buy saffron wholesale, don't hesitate to leave us a message or contact us via WhatsApp. We will get back to you soon.
Do you accept agencies?
We are looking for agents all around the world. If you are a trader in your country and want to be our agent in your country, don't hesitate to contact us. We often have great offers for our agents and we will support them in advertising and selling their product.
About Ana Qayen saffron
We are a supplier of Iranian saffron and we supply saffron from the best fields of saffron in Iran. It should be mentioned that nearly 90 percent of saffron in the world is produced in Iran. We have also an agency in Lyon, France and you can also buy our saffron in Europe.
Apart from saffron, we also supply other products from Iran including pistachio, rosebuds, Mazafati Date, and barberry. If you want to buy any type of product from Iran, we can supply you. You may contact us via the Contact Us page or WhatsApp. Also, you may see our different saffron packaging on our Buy Saffron online page.
When you want to buy saffron in bulk, you should be sure about the quality of the saffron that you are buying. Our saffron has got a European certificate from the SAI CHIMIE lab which is one of the most famous labs in Europe.
Also, our saffron is packaged in different and luxurious packages. You can see our different packing below. You can buy saffron in bulk with these packages in our online shop. You can also find us on social media via Instagram, Facebook, Linkedin, Pinterest, and Youtube. In the following, you can see our different packaging of saffron.