Different types of saffron face masks
How to use saffron on face? how to apply saffron on face? Lots of people have this question in their head; If you're one of them, be with us. In this paper, we are going to tell you how to prepare different saffron face masks. Saffron is an extremely safe and tested spice to improve not only the color of your skin but also the health of your skin.
You may ask " how to use saffron for skin whitening? " After reading the following article, you will get your answer. Also if you want to use saffron face mask for acne, we have mentioned this subject too. So be sure to not miss this article.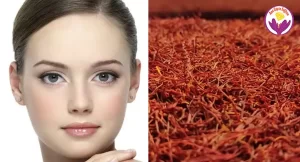 The only problem with using this spice is that it is said that saffron has a warm nature and can cause a lot of heat in the body. Using saffron in hot weather during the summer can lead to inflammation in the skin or acne.
Therefore, the best way is to use saffron in winter or colder weather conditions. Here we want to introduce you to some miraculous saffron face masks for skin and hair so that you can use them to give yourself beautiful, soft, and clear skin.
You may heard about saffron and honey for skin and you're wondering what is the properties of saffron and honey for skin. In the following, we review how to use honey and saffron for face.
Types of saffron masks for face
As we mentioned before, there are 7 types of saffron mask for face. In the following, we will review differents saffron mask for face.
1- Saffron face mask to cleanse and remove dullness of facial skin
Pour 2-3 strings of saffron in one or two teaspoons of water and let it soak in water overnight. After about 12 hours, the water turns golden. Now add milk, sugar, and a few drops of coconut oil or olive oil to the saffron brewed in boiling water. Dip a slice of bread into the mixture and spread it on your face using this slice of bread. Bread crumbs may stick to your face, but they are easy to wash off.
Put this mask on your face for 15 minutes. After it dries on your face, wash it off with water. Repeat this 3 to 4 times a week. This saffron face mask quickly clears dark skin; Reduces dark lines and areas; Increases skin circulation and adds radiance to the skin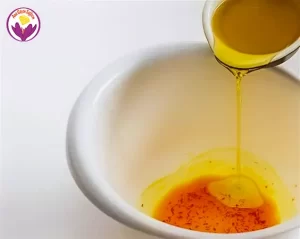 2- Basil leaf and saffron face mask
Beat some saffron powder with 6 to 7 fresh basil leaves, apply the resulting paste on the face, leave it for 10 minutes, and then wash off with water. This mask is suitable for removing facial pimples. The antimicrobial properties of basil are useful for killing acne-causing bacteria. This is a great face mask saffron.
3- Sunflower seeds and face mask saffron
Mix 4 to 5 sunflower seeds and 3 to 4 saffron strands and wait for an hour. Grind all the ingredients together when the milk starts to turn yellow. Apply this firm paste to
ظyour face and let it dry, then rinse with plain water. Use this face mask saffron two or three times a week.
4- Olive oil and saffron face mask
Mix 3 to 4 strands of saffron with a tablespoon of olive oil and apply it to the face in a circular motion. You can also use this mask at night. You can substitute coconut, almond, or sesame oil for olive oil. Use this saffron face mask every night. Massage with olive oil and saffron creates blood circulation in the skin and gives beauty to the face. Massage also helps the fatty acids nourished by the oil to be easily absorbed into the skin.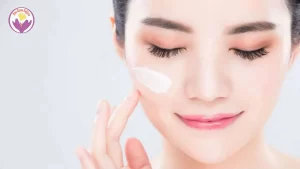 5- Honey and saffron face mask | Saffron and honey face mask
For making saffron and honey face mask, mix 2-3 strands of saffron with a teaspoon of honey and apply it to your face. Leave on for 10 to 15 minutes, then rinse with lukewarm water.
Due to the healing properties of saffron and the presence of antioxidants in honey, honey saffron face mask will be effective in repairing skin damage including dark spots and combating dryness through hydration to the skin.
Saffron and honey face mask is a great offer for you due to the compounds of honey and saffron.
6- Saffron and water mask for dark circles around the eyes and black spots on the skin
Mix 2 to 3 strands of saffron with 2 tablespoons of water and let these strands soak overnight until completely dissolved. Mix this solution with orange juice and vitamin E oil and put it under the eyes and on black spots for 15 to 20 minutes and then wash off with cold water. Repeat this every day. Saffron brightens skin color and rejuvenates the skin.
7- Saffron mask for hair
Milk and saffron are the best combinations for both hair and skin. Mix some saffron powder and milk and apply on the scalp and hair. Leave on for 30 minutes and then wash off with water and shampoo. After washing your hair, you will notice the shine and beauty of your hair.
If you need saffron for your saffron face mask, you need to know that we are one of the largest suppliers of Iranian saffron. There is no limit to the size of your order and you can order even 1 gram of saffron.
For information on the exact price of saffron, you can check the Iranian saffron price Page or you can contact us via WhatsApp or our Contact us page. Also, you can visit our different packaging of saffron on our Buy saffron online page.
[njwa_button id="1780″]
[njwa_button id="1782″]
Ana Qayen saffron one of the largest suppliers and we can export saffron all over the world. For example, in the video below, we sent 150 kilos of Iranian saffron to an Arab country.
Also, if you want more information about the saffron face mask, you can put your number in the form below so that our experts can contact you at the earliest opportunity.
You can also hear about saffron face mask in Voice below.
Buying saffron in Tunisia | Saffron price in Tunisia
Saffron in Iraq | Saffron price in Iraq in 2022
Saffron bulk suppliers | saffron wholesale suppliers in 2022
Saffron foods | Delecious foods using saffron
The effect of saffron on heart
The Iranian Pistachio Industry
Where to buy saffron powder near me | All over the world
Saffron buyer in Morocco | Saffron price in Morocco
How to export saffron? | saffron online export guide