Saffron in Switzerland
Saffron in Switzerland is very important for customers who want to sell saffron in bulk. If you want saffron in Switzerland, you can easily contact us. You can contact us via WhatsApp or the Contact Us page.
We can send you saffron from our agency in France. Since saffron is a precious spice, we always send it by air. We always send saffron to Switzerland by post.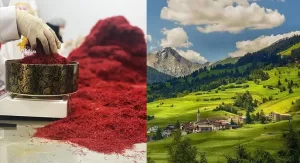 Price of saffron in Switzerland
Also, in the table below, you can see the price of saffron in Switzerland in terms of kilos and grams. Remember that prices are approximate and may change.
| | |
| --- | --- |
| Zafran price in Switzerland per kilo | 1,300 dollars |
| Original saffron price in Switzerland per gram | 2 dollars |
The good news is that we have an agent in Mumbai, India, Dubai, UAE, and Lyon, France which makes it very easy for you to buy saffron in Switzerland.
In the meantime, if you are from another country, you can see the price of saffron anywhere in the world on the Iranian saffron price page. Also, in addition to bulk saffron in Switzerland, we also offer saffron in the form of suitable gift packaging. We definitely recommend that you visit the Buy Saffron online page.
If you are looking to buy saffron in Switzerland, you can easily buy up to 500 grams of saffron from Switzerland through the section below and we will send it to you in less than a week. (It is possible to buy through PayPal.)
This price may also change today. So you need to contact us through WhatsApp so that our experts can send you the exact price.
[njwa_button id="1780″]
[njwa_button id="1782″]
Persian saffron in Switzerland
Switzerland is a country that has a long history of using spices and herbs in its cuisine, and saffron is no exception. Saffron, which is derived from the stigmas of the saffron crocus flower, is a prized spice known for its unique flavor, aroma, and vibrant color. However, due to the high cost of saffron, it is considered a luxury ingredient in Switzerland.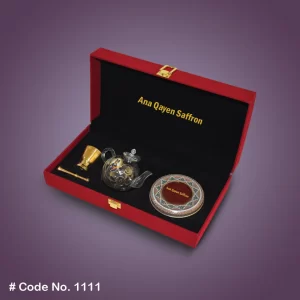 Saffron is primarily imported to Switzerland from countries such as Iran, Spain, and Morocco. The high cost of saffron is mainly due to its labor-intensive cultivation and harvesting process. Each saffron crocus flower produces only three stigmas, which must be carefully hand-picked and dried. It takes approximately 150,000 flowers to produce one kilogram of saffron, making it one of the most expensive spices in the world.
Despite its high cost, saffron is a popular ingredient in Swiss cuisine, particularly in the French-speaking region of the country. It is used in a variety of dishes, including risotto, bouillabaisse, and paella. Saffron is also used to flavor desserts such as ice cream and cakes.
Use of saffron in Switzerland
In addition to its use in cuisine, saffron is also used in traditional medicine and is believed to have various health benefits. It is believed to have anti-inflammatory and antioxidant properties, promote digestive health, and improve mood.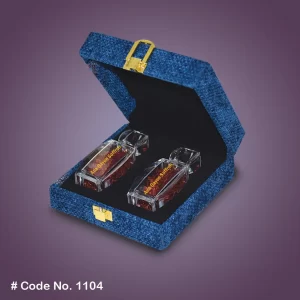 While saffron cultivation is not common in Switzerland, some farmers have started experimenting with growing saffron locally. One such farmer is Ulrich Rösch, who runs a saffron farm in the Canton of Ticino. Rösch started growing saffron in Switzerland over a decade ago and now produces around 500 grams of saffron annually. His saffron is sold in local markets and online, and he has gained a reputation for producing high-quality saffron.
In addition to local saffron production, there is also a growing interest in saffron tourism in Switzerland. Visitors can participate in saffron harvesting and learn about the cultivation and production process. Saffron tourism is particularly popular in the Canton of Valais, which has a long history of saffron production.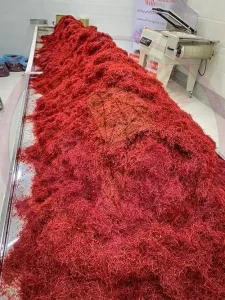 Saffron price in Switzerland
In terms of saffron prices in Switzerland, they can vary depending on the supplier and the quality of the saffron. On average, locally sourced saffron can cost between $2 to $3 per gram, while imported saffron can cost up to $5 per gram. However, prices may fluctuate based on the availability and quality of the saffron.
In conclusion, while saffron is a luxury ingredient in Switzerland due to its high cost, it remains a popular spice in Swiss cuisine. The growing interest in saffron tourism and local saffron production demonstrates a continued appreciation for this exotic spice. While saffron cultivation in Switzerland may not be common, the interest in locally produced saffron and saffron-related tourism shows that it is a spice that continues to captivate Swiss consumers.
Saffron price in Switzerland depends on several factors. One of these factors is the type of saffron. Saffron is sold in Switzerland in 5 types. These types of saffron are Negin, Sargol, Pushal, Dasteh, and Konj.
Each of these 5 types has different prices and characteristics; For example, Negin saffron has the best quality among the types of saffron and also has the highest price and on the other hand, Konj saffron has the lowest price.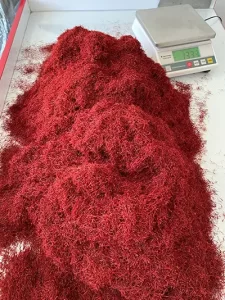 Another factor that determines the saffron price in Switzerland is where the saffron is harvested. In Iran, Qayen saffron has the highest quality, which is why Qayen is called the saffron city of the world.
Our company is located in Qayen, Iran, the city of saffron in the world. Therefore, you don't have to be worried about the quality of the saffron. Also, we have a branch in Lyon, France for your order in Europe, and Switzerland. If you want to order from these countries, you can contact our agent in Lyon, France.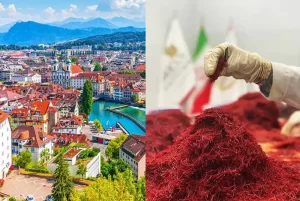 Selling saffron in Switzerland
Selling saffron in Switzerland, you should be familiar with the appearance and the types of saffron. Since saffron is a valuable plant, there are many cheaters in the trade that try to deceive customers. If you are not familiar with the appearance and types of saffron, it is not a problem; In the following, We will give a brief explanation.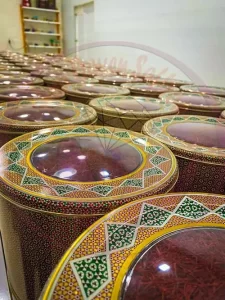 It should be noted that we always test saffron in the laboratory. When we send saffron to Switzerland or any other country, regardless of the documents required to clear the saffron from customs, we always send the laboratory results. In the lab results, you can see the moisture, strength of color and aroma of saffron.
Our packaging is very beautiful and luxurious. You can see different types of packaging on our website. We offer Wooden, plastic, and paper packaging at different prices. In the following, there are some of our packagings.
We also offer 500 g of Super Negin saffron in a luxurious box. You can see it blow.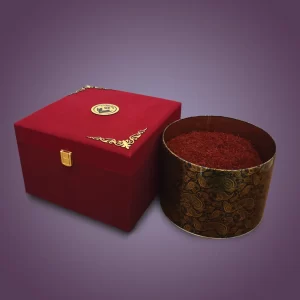 Supplier of saffron in Switzerland
As mentioned, we are one of the largest suppliers of saffron in Switzerland and the world. For example, in the video below, we sent 150 kilos of saffron to one of our Arab customers.
About Ana Qayen in Switzerland
We are a supplier of Iranian saffron in Switzerland and we supply saffron from the best fields of saffron in Iran. It should be mentioned that nearly 90 percent of saffron in the world is produced in Iran. We also have an agency in Lyon, France and you can buy our saffron in Europe.
Apart from saffron, we also supply other products from Iran including pistachio, rosebuds, Mazafati Date, and barberry. If you want to buy any type of product from Iran, we can supply you. You may contact us via the Contact Us page or WhatsApp. Also, you may see our different saffron packaging on our Buy Saffron online page.
When you want to buy saffron in bulk, you should be sure about the quality of the saffron that you are buying. Our saffron has got a European certificate from the SAI CHIMIE lab which is one of the most famous labs in Europe.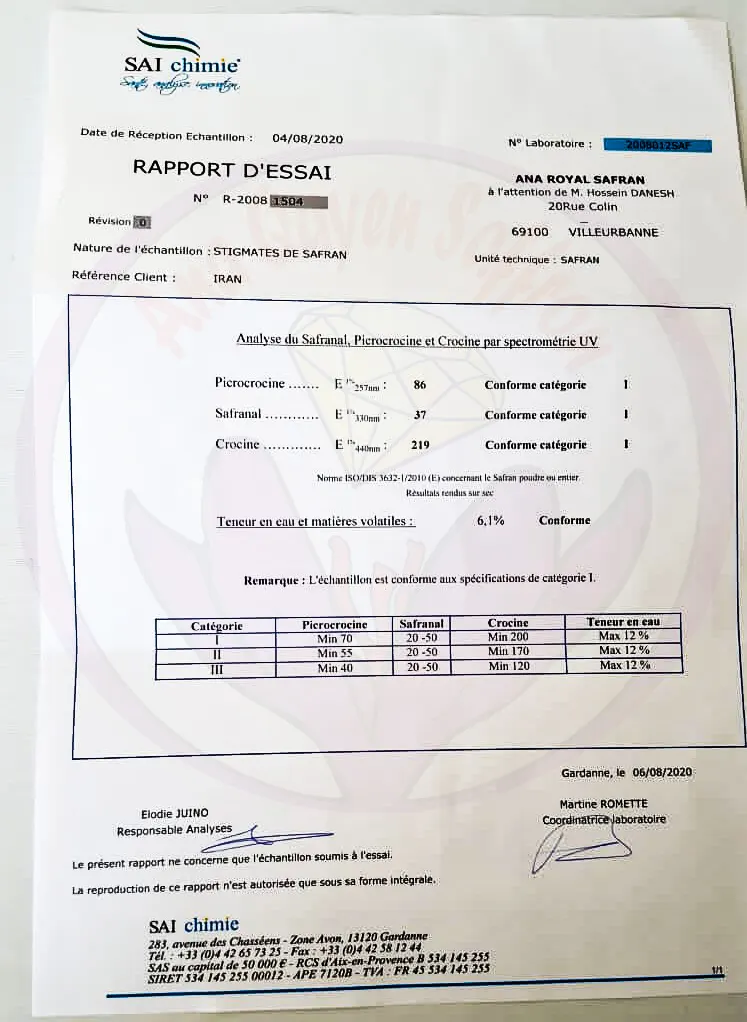 Also, our saffron is packaged in different and luxurious packages. You can see our different packing below. You can buy saffron in bulk with these packages in our online shop. You can also find us on social media via Instagram, Facebook, Linkedin, Pinterest, and Youtube. In the following, you can see our different packaging of saffron.