In this paper we will review some tips on growing saffron commercially.
Growing saffron commercially?
If you are fascinated by saffron, you are right. The taste, food and medicinal properties and most importantly income generation from the production and supply of saffron have attracted the attention of many people. Ana Qayen saffron offers you to read this article before any action. This is because we have collected research on this issue for you and its results on different cultivation methods, risk and profitability, etc.. We hope you will find what you are looking for in this research.
Methods on growing saffron commercially?- Hydroponics method
The advantage of hydroponic methods over the traditional method for growing saffron is the prevention of wastage and as a result a very significant reduction in water consumption as well as cost reduction in land preparation, pest and animal control and weeds. It should not be overlooked that setting up a greenhouse costs a lot at first, but over time, because of the return of capital compared to the traditional method, the initial cost is cost-effective.
Land conditions
It is recommended to plant saffron in sunny and treeless lands that are not exposed to cold winds, high temperatures in summers and mild weather in winters. The maximum suitable temperature for this plant is 35 to 40 degrees Celsius and it has shown good performance at an altitude of 1300 to 2300 meters above sea level.
However, this plant can be grown in different conditions with different methods. Because after a while, the saffron plant becomes accustomed to environmental conditions and gets used to it.
Planting saffron in Iran is easy according to the ideal climatic conditions. The saffron plant needs warm temperate climates for cultivation and is usually planted between August and October.
The growing season for saffron onions is from November to May. Indeed, it starts its activity in this period. Saffron leaves wither and wrinkle as the scorching heat begins. It is at this time that the sleep of the saffron onion begins and it practically ceases to function. Note that dry and warm soils are suitable for planting saffron and have priority.
Land preparation is very important in saffron planting and in fact it is one of the most important stages of saffron cultivation. In cold seasons, it is better to prepare the ground by deep plowing. If you do not have access to the tractor and plowing conditions at this time of year, you can postpone plowing until late spring or early summer (early July).
Use a small amount of lime in the soil to plant saffron. Saffron bulbs remain in the ground for 5 to 7 years, so the soil should have light soil or a combination of sand so that saffron bulbs can withstand a long period of time in addition to providing food, but also against specific regional conditions. For proper growth and development of saffron plant and production of high quality and desirable product, fertile and drained lands without trees with loamy, lemon, clay, sandy and calcareous soils with a pH between 8 to 7 on saline, poor and wet, acidic soils are preferred. Saffron does not produce good crops in lands that do not have rubble or weeds or rotted organic matter.
In the process of planting saffron, plowing is done twice. In mechanized agriculture, plowing is usually the means of plowing the land. This plowing is done in the autumn of the year before saffron is planted. Again in the spring, after the spring rains have stopped, re-plowing is used to break up the soil as well as killing the weeds.
The soil of your choice should be sweet and saffron should be planted in a field that is about a few years old since the last saffron cultivation of that land.
Animal manure is used for better growth of saffron. You should add this fertilizer to the soil in September or August with ammonium phosphate. This fertilizer should be injected into the ground by Faro method.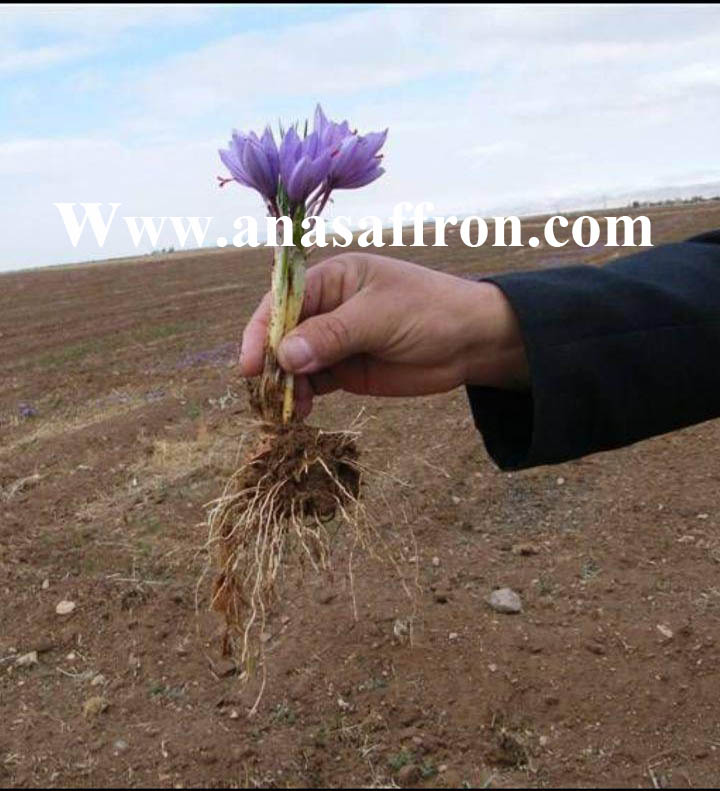 About Ana Qayen saffron
We are one of the biggest suppliers of the Iranian saffron. We export tons of saffron annually. We also have a company in France (Ana Royal int. Co.) so that our customers can deal with us much easier. Since nearly 90 percent saffron of the world is produced in Iran, we can supply at any amount that you need. In order to buy saffron in bulk, you may visit this page or be in touch with our sale team via WhatsApp.
W also have an Instagram and Facebook page. You can also follow us on other social media like YouTube and Linkedin.
If you are looking for other information on saffron, you may visit this page.