If you have a saffron farm or a place where you grow saffron, saffron export must have come to your mind. Exporting saffron is a lucrative business that many people are looking for. The question of how to export saffron online must have come to your mind. To answer this question, be sure to read the rest of this page.
How to export saffron? Exporting Iranian saffron is very simple and there is no limit on the size of the order. According to statistics, almost 90% of the world's saffron is produced in Iran. Since our company is located in Iran, you can order as much as you want; Ana Qayen Saffron can supply 1 ton of saffron per month. Iran is the largest producer of saffron in the world.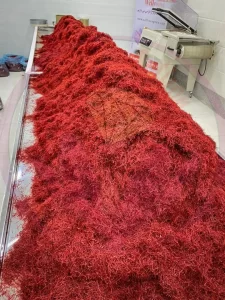 Export quality saffron
Export quality saffron can be done in several ways. Air travel is the best. Of course, saffron can also be exported by ship, and some people think that exporting saffron by ship is very economical, but it is not worth it at all.
Export saffron from Iran
Ana Qayen saffron is one of the biggest exporters of saffron. We can also export saffron all over the world. For example, in the photo below, we sent 20 kilos of saffron to Qatar, where you can see the waybill photo.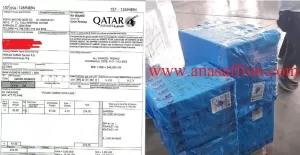 We had customers from almost all over the world. In the photo below, we exported saffron to one of our customers in Taiwan.
There are requirements to begin exporting quality saffron. The most basic requirement is complete familiarity with this valuable plant. Since saffron is the most expensive spice in the world, there are many cheaters in this trade.
In order not to fall into the trap of these deceivers, you should be completely familiar with this plant. In the following, we will give a brief explanation of the saffron shape.
Saffron is a plant with a purple flower with 6 beautiful petals that protect 3 red stigmas. These three red stigmas are the same delicious substance that has a lot of color and aroma and is prepared with a lot of effort.
As mentioned above, we supply saffron all over the world. If you need saffron to export to your customers around the world, you have come to the right place.
For information on the exact price of saffron, you can check the Iranian saffron price Page or you can contact us via WhatsApp or our Contact us page. Also, you can visit our different packaging of saffron on our Buy saffron online page.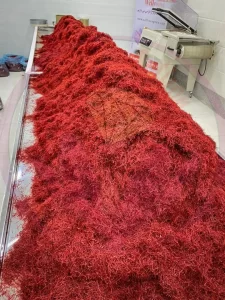 Saffron online export guide
Saffron is one of the most expensive spices in the world, and its export or sale in world markets is one of the most profitable businesses, especially for Iranians. Iran is the first and top saffron exporter in the world. As you know, most of the cultivated lands for saffron belong to Khorasan province. Many families in Khorasan province are engaged in planting saffron and earning money in this way.
The export of saffron, like other goods, has its stages. The main stages of saffron export in Iran are as follows:
Suitable marketing to find reliable customers
Buying high-quality saffron
Getting required standards for exporting the saffron
Doing the required paperwork in customs and sending the saffron to the destination country
Saffron is considered a popular spice in the world, especially in Iran, which is used to color and flavor various foods and beverages. Currently, famous chefs from all over the world use saffron to prepare various foods. Demand for saffron in foreign markets is very high, and different countries are buying saffron from Iran. Saffron export companies are reputable and centralized companies that make the export of this precious spice very easy.
They provide facilities for the saffron harvested from the ground, properly packaged, and prepared for export. Saffron export company, considering the needs of foreign customers to buy this precious spice, implements the correct pricing strategy and international marketing methods, and finally, performs the export steps. Businesses that export spices, vegetables, and fruits can also succeed in this area.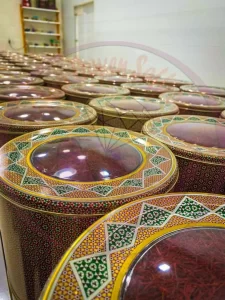 The amount of saffron exports in the world is significant and its dollar revenue volume is growing positively every month. If you look at the statistics recorded in export and import sources, you will notice these changes. The sale and export of saffron to foreign countries is a positive source of income for the country.
Saffron is a non-oil export commodity, so it requires special investment. The best saffron from Qaen city is prepared in standard packages in different weights for sale to foreign customers. The packaging of saffron and its quality play an essential role in attracting customers. In this article, you will get acquainted with the saffron online step guide on different types of saffron.
Stages of saffron export
To enter the field of buying and selling or exporting saffron, you must be well acquainted with the steps and how to export this spice. The following steps that must be followed to export this product are fully described. If you are active in the field of saffron cultivation or you want to work in the field of saffron exports, you should pay attention to the following points:
Step 1: Assess and evaluate the need of the global market to buy saffron
Success in saffron exports depends on determining the need of the global market to buy saffron. By collecting information, data, and figures, published in foreign sources about the export of imports and the volume of sales of saffron in the international market, you can determine which market is in high demand and you can export to which countries.
Based on the general conclusion that you draw from this data, you will select the target country or countries for saffron exports, and in fact, you will find the best destination to sell saffron. If you do not have a correct understanding of the saffron market in the world, your efforts to export to one country will be in vain!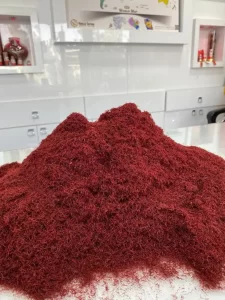 The importance of assessing the global market need to buy saffron becomes clear when you are faced with the issue of sanctions, economic issues, currency supply, and customs laws in the country of origin and destination. Before exporting saffron, you should know which countries' markets are open to your saffron products.
Second step: buy high-quality saffron with standard and beautiful packaging
After you have completely passed the first stage of saffron export and obtained all the necessary information, now is the time to prepare the best and most quality saffron for export. In general, saffron is cultivated in most provinces of Iran, but the products from different regions do not have the same quality. Currently, Khorasan province not only has the highest production of saffron in the country but also the highest quality saffron is cultivated in Qaen city located in this province.
Saffron has different types, all people who want to work in the field of saffron export should study the different varieties of saffron and their differences so that they can finally make the right decision to export this product and the best type of saffron to export.
If you are not familiar with different types of saffron, we have prepared a complete article about different types of saffron. For complete acquaintance with different types of saffron, you can read the article on different types of saffron.
Another factor that is considered as one of the stages of saffron export is considering a standard and beautiful packaging for products. Suppose you have prepared the best saffron, you have identified the target market and now you want to export saffron. If the products are not in beautiful and standard packaging, the foreign customer will not buy your product in any way.
To choose the best and most beautiful packaging for saffron for export, consider a certain cost for ordering packaging boxes and consult with a saffron export company. Get help from export package printing companies if needed. Do not forget that export packages have certain characteristics that are determined by the destination country for the seller.
Step 3: Receive the necessary licenses and documents to export saffron
One of the most important steps in exporting saffron is preparing the necessary documents for export. Export of saffron, like other goods, requires a series of licenses. Because saffron is a food item, the licenses and documents required for its export are somewhat different from other goods.
The issuing person must first obtain a standard certificate and a health certificate from the relevant authorities. One of the most important documents that saffron exporters must have is a business card. Usually, a saffron export company does this by sending a person as an export representative along with a letter of introduction; Finally, the company's representative goes to customs and performs the export work.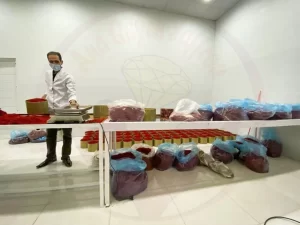 At this stage, you need to register the shipments at customs. All the documents mentioned above are required to export saffron. Products are registered at customs and export customs declaration export forms must be completed. The special form for exporting different types of saffron in customs includes complete details about the product, this form must be carefully completed and delivered to the relevant official. Once the customs work is done, the shipment you have delivered will be checked with the specifications you wrote in the form and its accuracy will be confirmed.
As we mentioned earlier, Ana Qayen saffron is one of the biggest Iranian saffron exporters and Iranian saffron suppliers in the world. For example, in the video below, we sent 150 kgs of Iranian saffron to one of our Arab customers.
In the voice below, you can hear about the saffron export and the saffron exporters.
About Ana Qayen
We are a supplier of Iranian saffron and we supply saffron from the best fields of saffron in Iran. It should be mentioned that nearly 90 percent of saffron in the world is produced in Iran. We have also an agency in Lyon, France and you can also buy our saffron in Europe.
Apart from saffron, we also supply other products from Iran including pistachio, rosebuds, Mazafati Date, and barberry. If you want to buy any type of product from Iran, we can supply you. You may contact us via the Contact us page or WhatsApp. Also, you may see our different saffron packaging on our Buy saffron online page.
When you want to buy saffron in bulk, you should be sure about the quality of the saffron that you are buying. Our saffron has got a European certificate from SAI CHIMIE lab which is one of the most famous labs in Europe.
Also, our saffron is packaged in different and luxurious packages. You can see our different packing below. You can buy saffron in bulk with these packages in our online shop. You can also find us on social media via Instagram, Facebook, Linkedin, Pinterest, and Youtube. In the following, you can see our different packaging of saffron.
You may find these articles useful.
Order high-quality pistachios from Iranian farms
Is saffron extract good for you
Order high-quality pistachios from Iranian farms
Buy pistachios with online delivery