Consuming saffron
How to Use Saffron? After grinding, saffron should be kept away from light and moisture in a glass container. The saffron essential oil (aromatic substances) can be evaporated, if stored improperly. Consequently, the medicinal effects and taste of saffron will be reduced and its quality will be lost.
Excessive consumption of saffron also lowers blood pressure and may cause excessive blood thinning This can have side effects such as nosebleeds or uterine bleeding in women. Overuse of this substance is not recommended for pregnant women for the reasons mentioned above and may lead to miscarriage in the first months of pregnancy.
Excessive consumption of saffron also causes vomiting, decreasing heart rate, bleeding from the nose, bleeding from the eyelids and lips and causes dizziness, lethargy, jaundice and other dangerous complications and these consequences can even lead to death.
Eating too much saffron is harmful to the kidneys. It reduces appetite and causes headaches and disturbs the senses.
Consumption of saffron is highly toxic and causes vomiting, uterine bleeding, bloody diarrhea, nosebleeds, eyelids and lips, dizziness, lethargy, jaundice and severe smooth muscle stimulation and sometimes even death.
Excessive consumption during menstruation increases the level of anxiety.
Excessive consumption changes the color of the skin.
Due to its hot nature, it may lead to diarrhea, dehydration and bloody urine.
It is worth mentioning that high doses of saffron can lead to the consequences above. Don't worry. You will never be able to use saffron that much.
Saffron is often used in cooking recipes, especially with rice and stews.
To use saffron, you must first prepare it. To prepare, first of all, you need to pour the required saffron string into a container and pulverize it. Of course, you can buy powdered saffron from stores and suppliers, but since it is more difficult to trust saffron powder, it is better to always buy saffron strings and grind it yourself at home. Some people add a little sugar to grind the saffron.
Due to the fact that ground saffron spreads its color better, after preparing the saffron powder, you should pour it into hot water and let it dissolve in it for 10 to 15 minutes to brew.
The important thing to remember at this stage is to always brew saffron as needed and avoid keeping brewed saffron in the refrigerator for more than two days apart. Because over that time, brewed saffron loses its properties.
Saffron with salad
Saffron pasta
Many people use saffron in salads. No wonder, because saffron is a spice that can be used to flavor all kinds of food or salads.
In the following, we will review the recipe of delicious saffron pasta.
Ingredient of saffron pasta
Onion (preferably red): 1 pc
Pasta: 300 g
Garlic: a clove
Saffron (optional): 1 quarter spoon
Cream (breakfast): 1 cup
Chicken breast, shrimp (roasted): optional
Parsley (fresh): 1 teaspoon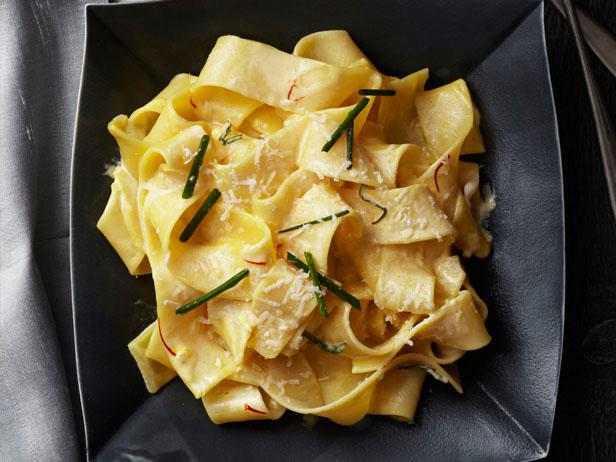 How to Use Saffron
Recipe of saffron pasta
Boil the pasta in boiling water with a tablespoon of salt for two minutes. Keep a quarter of a cup of boiling water pasta and rinse the pasta.
Fry the chopped onion with the crushed garlic in butter until it gets golden. Then add salt and pepper.
Reduce the flame to medium, add the cream with the saffron and a little salt, mix until smooth and the saffron will give its full color. Now pour the pasta into the pan, add the amount of water that we kept and mix until the sauce is evenly distributed on the surface of the pasta. Its concentration should be such that the sauce does not drip from the surface of the pasta. Sprinkle parsley on it and serve immediately.
If you want to use chicken, fry it in small pieces and flavor it with black pepper and salt. Then in the last step add the chicken (after adding pasta and stirring). The whole cooking time of this food is fifteen minutes. Therefore, you should fry the chicken beforehand.

Saffron with milk
In winter, hot drinks are considered more than anything. Of course, some drinks that are suitable for the cold seasons such as drinks as an evening drink, are really enjoyable. As an example of such drinks, we can mention the hot drink of saffron milk. In the following, we will review how to make saffron milk.
Ingredients for preparing saffron milk
| | | |
| --- | --- | --- |
| Amount / Calories | Amount | Ingredient |
|   100grams / 95 calories | Four glasses | Liquid milk |
| 100grams / 310 calories | A little | Saffron |
| 100grams / 310 calories | Five cloves |   Chopped cardamom |
Ingredients of saffron milk
You can use different methods to prepare saffron milk, but the best thing to do is to grind the saffron with the right methods first, and mix it with cardamom. After preparing the saffron milk, put the milk on the fire to heat and add this fragrant mixture of saffron and cardamom to it. Stir the solution a little to change the color of the milk from white to the beautiful red color of saffron.
If you use ready-made milk, it is enough to warm the milk, but if you use fresh milk, it is better to add the ingredients after boiling and wait for the color to change and the aroma to rise.
You can drink it hot or wait for it to cool and then drink it.
The important point is that you can sweeten saffron milk with sugar. But many people use sugar when grinding saffron, which prevents the saffron to show its color well. Therefore, it is better to sweeten saffron after complete preparation, add a little sugar to it or taste it with a few sugar cubes.
How to Use Saffron
Saffron and honey
The combination of saffron and honey is a great mixture. Saffron and honey each have special properties, but using the two together will have a great effect.
How to prepare saffron and honey:
To prepare this concoction, first brew the saffron. Then mix the brewed saffron with two tablespoons of natural honey. Then, if you wish, add a second glass of rose water to it and stir. You can also add a very small amount of water to it.
In the following, we will review the properties of saffron and honey.
1. Saffron and honey; A winter face mask
2. Bladder lavage
3. Saffron honey; Heart tonic
4. Exhilarating
5. Soothing and relieving pain
6. Strengthen vision
7. Anti-tumor properties
8. Help treat asthma
9. Reduction of postpartum hemorrhage
10. Help with menstrual disorders in women
You may find these articles useful.
The price of saffron in Jordan
Luxury Iranian Negin Saffron, First Class, Super