How to grow saffron at home
Many people ask how to grow saffron at home. In this article, we will review the method of planting saffron at home. Only 4 steps are needed for planting saffron at home (You can also buy saffron on this website).
Step 1: Provide a place for planting saffron
Depending on the amount of saffron you plan to plant, you should have a plot of land. Your saffron bulb will yield for up to 7 years, so it is better to choose a piece of land that you do not need. This saffron growing place could also be a pot on the terrace of your apartment.
Saffron should be planted in temperate or cold dry climates and generally low rainfall. Therefore, areas of the country, for example, the north of Iran that are constantly exposed to rain are not suitable for planting saffron.
Even land with an approximate area of ​​1 meter by 1.5 meters is suitable for planting saffron. It should be a land that has enough light and good soil.
Growing saffron at home
The next step for growing saffron at home is to prepare a saffron bulb. In the following, we will explain how to prepare a saffron bulb.
You need to prepare some saffron bulbs for planting saffron, which is very simple. You can find some good quality saffron bulbs with a simple search in your place of residence. You can also buy saffron bulbs on your trip to the cities where saffron is grown.
Another way is to buy saffron blubs online. The quality of Iranian saffron is known to the whole world, but the export of saffron blubs is illegal in Iran, and if you find Iranian saffron blubs outside Iran, it is most likely counterfeit. However, there are some places that you can buy saffron bulbs from other countries.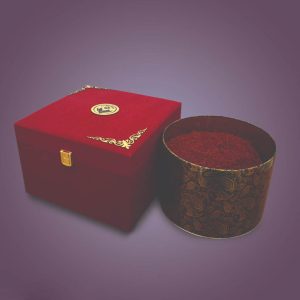 The important thing here is to buy good quality blubs. This will keep your saffron away from potential dangers. If you buy saffron blub that has not been disinfected, you can disinfect it yourself.
Cultivation of saffron at home
The third step for the cultivation of saffron at home is to prepare the land and planting the saffron.
Well, now is the time to prepare the ground and plant your saffron. If you have little experience in agriculture or gardening, you know what to do. Plow the land well with a shovel and enrich your land with some dry leaves or fertilizer.
You should try to plant your blubs from early summer to late October. To plant saffron, dig grooves 20 cm deep and place the blubs upwards and seed in the groove.
The height of blubs planting is very important because every year the saffron blub rises a little, which causes your blub to reach the ground, and if you are in cold areas, the blub may be damaged.
Your work is done with deep irrigation of blubs in late September or early October, this is where it ends. The next stage of irrigation will be after the flowers are harvested in December, and if you live in a place with little rain, irrigate your saffron once in January. Irrigation of saffron during saffron blub sleep causes damage to the saffron bulb.
So normally it became two stages of irrigation and in the case of living in a very low rain place, three stages of saffron irrigation are necessary.
Step 4: Harvesting the saffron
Well, now we are in the middle of November, and your saffron yields for 20 days. Each saffron blub gives you one flower in the first year and more than one flower in the following years. Each saffron flower has 3 or 4 strands (sometimes 5 strands) of saffron that you can use for its wonderful taste and aroma.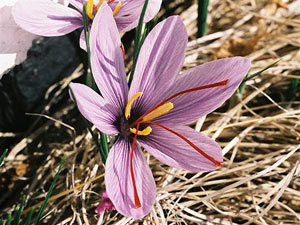 Well, now you have good saffron that you made yourself. The moment of picking saffron flowers will be one of the most exciting moments of your life.
Important tips for planting saffron at home:
For every kilo of saffron blub, you can get about 2 grams of high-quality saffron in the first year. This amount will increase in the following years and also your saffron blub will triple at least in the seventh year. You should transfer it to a bigger land and get more saffron.
With this method, you can even plant saffron in a suitable pot and your apartment.
The suitable climate for planting saffron on a small scale is not very special and you can cultivate your saffron by providing a mild place where your saffron is exposed to sufficient light and cool air temperature, and of course, saffron planting in cities like Hamedan and Mashhad where the weather is cold and dry is much more desirable.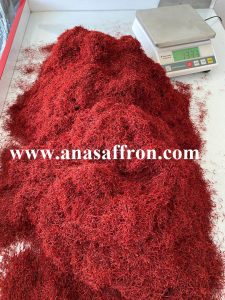 However, if you intend to buy saffron, please read the following.
About Ana Qayen saffron
Many people are looking for a place where they can buy saffron. We are a supplier of Iranian saffron and if you want to buy saffron, you have come to the right place. Our saffron is harvested from the city of Qayen in Iran which is one of the most famous cities for the quality of saffron. This city is known as the city of saffron in Iran.
To buy saffron, you may visit our Buy Iranian saffron page.
We also have another branch in Lyon, France, which makes it very easy for you to order in Europe. For information on the exact price of saffron, you can contact us through the Contact us page or WhatsApp.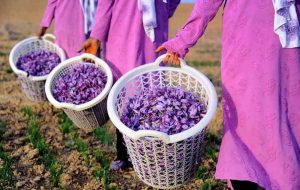 When you want to buy saffron, you should be sure about the quality of the saffron that you are buying. Our saffron has got a European certificate from SAI CHIMIE lab which is one of the most famous labs in Europe.
Also, our saffron is packaged in different and luxurious packages. You can see our different packing below. You can buy saffron with these packages in our online shop.
You can also find us on social media via Instagram, Facebook, Linkedin, Pinterest, and Youtube.