Saffron price in Indonesia
The price of Super Negin saffron in Indonesia is 2,500 €. Of course, this price is approximate and may change.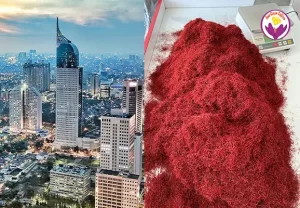 And the saffron price in Indonesia per gram is 3 €. This price is not exact and will change. In the table below, we have put the prices of saffron in Indonesia for you.
| | |
| --- | --- |
| Price of saffron per gram in Indonesia | 3 € |
| The price of a kilo of saffron in Indonesia | 2,500 € |
Also, Iranian saffrons are available in several types, each type has its own quality and its price is also different, but as we mentioned, we have no problem sending you the original Iranian saffron in bulk and in parts.
Also, due to the different qualities of saffron, the price of this product has changed.
Keep in mind that you should not place saffron directly in the sunlight, this will cause the saffron to lose its color to some extent and cause its quality to decrease.
Where to buy saffron in Indonesia?
Would you like to know where to buy saffron in Indonesia? And maybe you know where to buy it, but because of the preciousness of this spice, you can't trust anyone, so don't worry, we will guide you further.
Buy saffron in Indonesia
Buying saffron in Indonesia has become very simple. Saffron is a precious and valuable spice that is exported all over the world, but it is very well-known in some countries and less in other countries and not known in others, but this issue is different in Indonesia.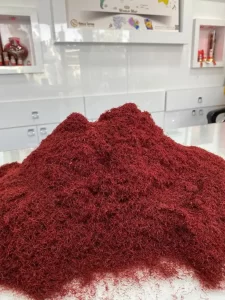 In addition to saffron in bulk in Indonesia, we also offer saffron in very stylish packages suitable for gifts for your loved ones. We definitely recommend that you visit the Buy saffron online page. You can also see the price of saffron on the Iranian saffron price page.
If you are looking to buy saffron in Indonesia, you can easily buy up to 500 grams of saffron from Indonesia through the section below and we will send it to you in less than a week. (It is possible to buy through PayPal.)
The country of Indonesia has a lot of food diversity, and because of the good smell of saffron and also the good color of the food, Indonesian cooks and also the people of Indonesia love saffron.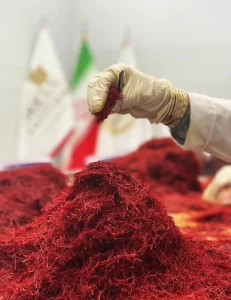 You probably know that the best saffron in the world belongs to Iran, and Iran is also the largest exporter of saffron in the world, which exports its saffron to many countries in the world, such as Russia, Turkey, the United Arab Emirates, European countries, etc. Indonesia is no exception to this rule.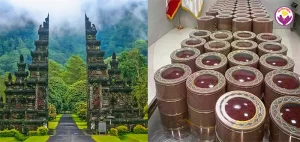 The good news is that our main office is located in Iran and we can deliver pure Iranian saffron to Indonesia. We have representatives in UAE, India, and France. So if you are in these countries, you can make your purchase in person.
Since farmers can grow this product in greenhouses, it has caused counterfeit saffrons to enter the market, but it should be known that greenhouse saffrons are not at all comparable to Iranian saffron. But how can you prepare and use original saffron in Indonesia?
You can enter our site and buy original saffron and be aware of the current prices. Of course, keep in mind that saffron root is also very efficient and useful, and many people find saffron root useful in the treatment of certain diseases such as jaundice, calming the nerves, etc.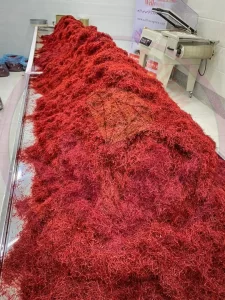 Saffron in Indonesia
Since it was said that due to the wide variety of food in this country, saffron in Indonesia is very popular, but due to the presence of fake saffron products in the market, it has become very difficult to buy original Iranian saffron. But you can buy original saffron with modern packaging in different dimensions on our site.
The price of saffron in Indonesia
Due to the import of this product in Indonesia, as well as the purchase of many people, or even the existence of inflation in the country that exports or imports saffron, the price of saffron in Indonesia fluctuates.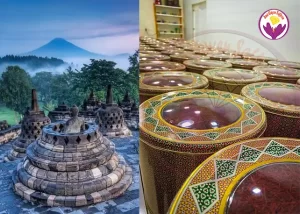 As it has been said before since some greenhouse owners and farmers grow this precious product, the prices have changed, but there is no need to worry, you can buy as much saffron as you need in bulk or even individuals from our site. Keep in mind that Iranian saffron has a bitter taste, but it is very fragrant and has a sweet aroma.
Supplier of saffron in Indonesia
We have sent saffron to many cities in Iran and also to many countries, so don't worry, we are one of the suppliers of saffron in Indonesia. For example, in the video below, we sent 150 kilos of Iranian saffron to one of our customers in Kuwait.
You can order saffron, which is one of the most common and famous saffrons in Iran, in bulk and in parts. You can also buy Super Negin saffron in Indonesia.
Also, for your convenience, our saffrons are certified by SAI CHIMIE, which is one of the best European laboratories.
You can also follow us on social media such as Instagram and see our products in beautiful and luxurious packages with different dimensions and weights and also with different qualities. We will export our saffron to the countries of the world in bulk and in parts without any problem.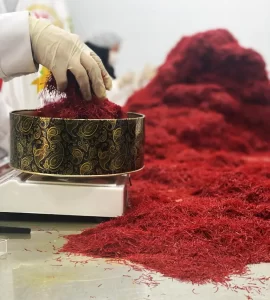 If you want to know more about Iranian saffron, we can guide you on our site. There are many articles on our site to familiarize you with this valuable and precious product.
Also in the voice below you may hear about saffron in Indonesia.
About Ana Qayen in Indonesia
We are a supplier of Iranian saffron and we supply saffron from the best fields of saffron in Iran. It should be mentioned that nearly 90 percent of the world's saffron is produced in Iran. We have also an agency in Lyon, France and you can also buy our saffron in Europe.
Apart from saffron, we also supply other products from Iran including pistachio, rosebuds, Mazafati Date, and barberry. If you want to buy any type of product from Iran, we can supply you. You may contact us via the Contact us page or WhatsApp. Also, you may see our different saffron packaging on our Buy saffron online page.
When you want to buy saffron in bulk, you should be sure about the quality of the saffron that you are buying. Our saffron has got a European certificate from the SAI CHIMIE lab which is one of the most famous labs in Europe.
Also, our saffron is packaged in different and luxurious packages. You can see our different packing below. You can buy saffron in bulk with these packages in our online shop. You can also find us on social media via Instagram, Facebook, Linkedin, Pinterest, and Youtube. In the following, you can see our different packaging of saffron.