Saffron Price in Bangladesh
The high value of saffron makes it an attractive crop for farmers in Bangladesh, particularly those in the northwestern region where agricultural productivity is low. Saffron is one of the most expensive spices in the world, with prices ranging from $1,300 to $2,000 per pound. The potential for high profits has led some farmers in Bangladesh to experiment with saffron cultivation, and some have reported success in growing the spice.
Saffron price in Bangladesh depends on several factors. One of these factors is the type of saffron. Saffron is sold in Bangladesh in 5 types. These types of saffron are Negin, Sargol, Pushal, Dasteh, and Konj. Each of these 5 types has different prices and characteristics;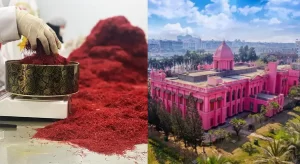 For example, Negin saffron has the best quality among the types of saffron and also has the highest price and on the other hand, Konj saffron has the lowest price.
Price of saffron in Bangladesh
Also, in the table below, you can see the price of saffron in Bangladesh in terms of kilos and grams. Remember that prices are approximate and may change.
| | |
| --- | --- |
| Zafran price in Bangladesh per kilo | 1,300 dollars |
| Original saffron price in Bangladesh per gram | 2 dollars |
The good news is that we have an agent in Mumbai, India, Dubai, UAE, and Lyon, France which makes it very easy for you to buy saffron in Bangladesh.
In the meantime, if you are from another country, you can see the price of saffron anywhere in the world on the Iranian saffron price page. Also, in addition to bulk saffron in Bangladesh, we also offer saffron in the form of suitable gift packaging. We definitely recommend that you visit the Buy Saffron online page.
If you are looking to buy saffron in Bangladesh, you can easily buy up to 500 grams of saffron from Bangladesh through the section below and we will send it to you in less than a week. (It is possible to buy through PayPal.)
This price may also change today. So you need to contact us through WhatsApp so that our experts can send you the exact price.
[njwa_button id="1780″]
[njwa_button id="1782″]
Now we are going to answer 3 of your frequent questions about Irani saffron price in Bangladesh.
What is the zafran price in BD?
The zafran price in BD varies depending on factors such as quality, quantity, and demand. Generally, saffron is considered a high-value spice, and its price can range from BDT 150,000 to BDT 200,000 per kilogram.
What are the factors that affect the kesar price in Bangladesh?
Several factors can affect the kesar price in Bangladesh, including the quality of the saffron, the supply and demand in the market, and the cost of production. Saffron produced through traditional methods with high quality is likely to command a higher price in the market. Additionally, if the supply of saffron is low, and the demand is high, the price of saffron is likely to be higher. On the other hand, if the production cost of saffron is high, the price is likely to be higher.
Is the saffron price in bd stable?
The saffron price in bd is not stable and can fluctuate depending on various factors. Changes in production, supply, and demand can cause the price of saffron to vary from season to season. Additionally, the international market prices of saffron can also impact the local market prices in Bangladesh. However, in recent years, the price of saffron in Bangladesh has been increasing due to its rising demand and the potential for high profits for farmers.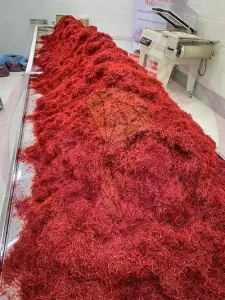 Another factor that determines the Price of saffron in Bangladesh is where the saffron is harvested. In Iran, Qayen saffron has the highest quality, which is why Qayen is called the saffron city of the world.
Our company is located in Qayen, Iran, the city of saffron in the world. Therefore, you don't have to be worried about the quality of the saffron. Also, we have a branch in Lyon, France for your order in Europe, and Bangladesh. If you want to order from these countries, you can contact our agent in Lyon, France.
Saffron is a spice known for its bright yellow-orange color and distinct flavor that is widely used in cuisines around the world. Although saffron is not traditionally grown in Bangladesh, it has gained popularity recently as a high-value crop with potential for export.
Saffron cultivation in Bangladesh
Saffron cultivation in Bangladesh is still in its early stages, but it has shown promising results in the few areas where it has been grown. The climate in Bangladesh is suitable for saffron cultivation, as it requires a dry and warm climate with low humidity. The northwestern region of Bangladesh, particularly the districts of Chapainawabganj, Rajshahi, and Dinajpur, has been identified as suitable for saffron cultivation due to its relatively dry climate.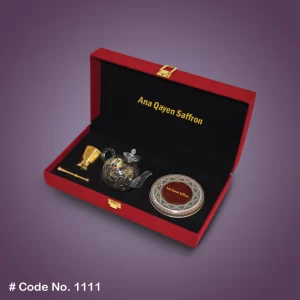 The cultivation of saffron in Bangladesh is a labor-intensive process, as it requires handpicking the delicate saffron stigmas from the flowers. Farmers in Bangladesh typically plant saffron bulbs in the fall, and the flowers bloom in late October and November. The flowers only last for a few days, so farmers must carefully monitor their fields and pick the stigmas as soon as they bloom to ensure the highest quality saffron.
Saffron in Bangladesh
Saffron in Bangladesh is known for its medicinal properties and has been used in traditional medicine for centuries. It is believed to have antioxidant, anti-inflammatory, and anti-cancer properties, among other health benefits. In Bangladesh, saffron is used in traditional medicine to treat a variety of ailments, including depression, anxiety, and insomnia.
However, saffron cultivation in Bangladesh faces several challenges. One of the biggest challenges is the lack of knowledge and expertise among farmers on saffron cultivation techniques. Saffron cultivation is a delicate process that requires specific techniques for planting, irrigation, and harvesting. Without proper knowledge, farmers may not be able to produce high-quality saffron, which can lead to lower prices and reduced profits.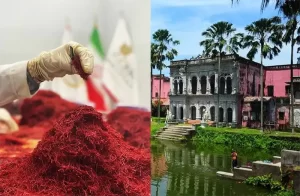 Another challenge facing saffron cultivation in Bangladesh is the lack of infrastructure and support systems for farmers. Farmers need access to irrigation systems, storage facilities, and transportation networks to get their saffron to market. Without these systems in place, farmers may not be able to sell their saffron or may have to sell it at lower prices.
Despite these challenges, saffron cultivation in Bangladesh has the potential to become a profitable and sustainable crop for farmers. With the right knowledge and support systems in place, saffron could become a valuable export commodity for Bangladesh, bringing in much-needed income for farmers and contributing to the country's economy.
Persian Saffron In Bangladesh
Persian saffron in Bangladesh is very important for customers who want to sell saffron in bulk. If you want Persian saffron in Bangladesh, you can easily contact us. You can contact us via WhatsApp or this page.
We can send you saffron from our agency in France. Since saffron is a precious spice, we always send it by air. We always send saffron to Bangladesh by plane. It is also possible to send saffron to Bangladesh by ship. But it really isn't worth it. Some customers think sending saffron by ship is cheaper. But it is not worth it.
Sending cargo by ship is good when the load weight is large. But sending this spice by ship is not a good way at all.
Buy Saffron In Bangladesh
If you want to buy saffron in Bangladesh, you should be familiar with the appearance and the types of saffron. Since saffron is a valuable plant, there are many cheaters in the trade that try to deceive customers. If you are not familiar with the appearance and types of saffron, it is not a problem; In the following, We will give a brief explanation.
Saffron is a plant with a purple flower with 6 beautiful petals that protect 3 red stigmas. These three red stigmas are the same delicious substance with a lot of color and aroma and are prepared with a lot of effort.
Organic Saffron In Bangladesh
It should be noted that we always test saffron in the laboratory. When we send saffron to Bangladesh or any other country, regardless of the documents required to clear the saffron from customs, we always send the laboratory results. In the lab results, you can see the moisture, strength of color and aroma of saffron.
Our packaging is very beautiful and luxurious. You can see different types of packaging on our website. We offer Wooden, plastic, and paper packaging at different prices. In the following, there are some of our packagings.
We also offer 500 g of Super Negin saffron in a luxurious box. You can see it blow.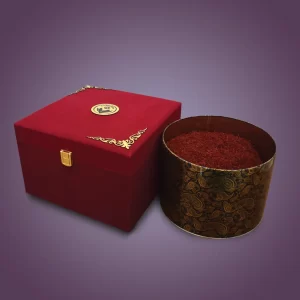 Be our agent in Bangladesh
If you want to work with us, you can be our agent in your country. If you can buy saffron from us regularly, we can offer you an exclusive agency, and thus, we will refer all customers to you in your area.
Our saffron is also packaged in different packages; You can order any type of packaging according to your needs. You can see the types of our saffron packages below.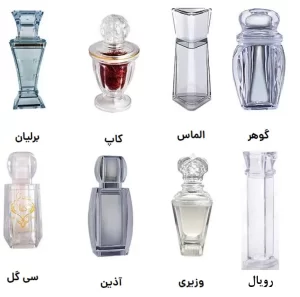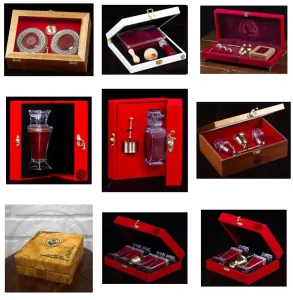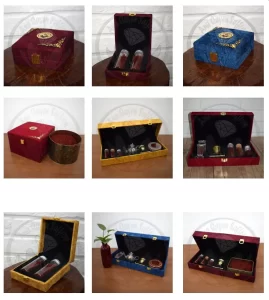 About Ana Qayen in Bangladesh
We are a supplier of Iranian saffron in Bangladesh and we supply saffron from the best fields of saffron in Iran. It should be mentioned that nearly 90 percent of saffron in the world is produced in Iran. We also have an agency in Lyon, France and you can buy our saffron in Europe.
Apart from saffron, we also supply other products from Iran including pistachio, rosebuds, Mazafati Date, and barberry. If you want to buy any type of product from Iran, we can supply you. You may contact us via the Contact Us page or WhatsApp. Also, you may see our different saffron packaging on our Buy Saffron online page.
When you want to buy saffron in bulk, you should be sure about the quality of the saffron that you are buying. Our saffron has got a European certificate from the SAI CHIMIE lab which is one of the most famous labs in Europe.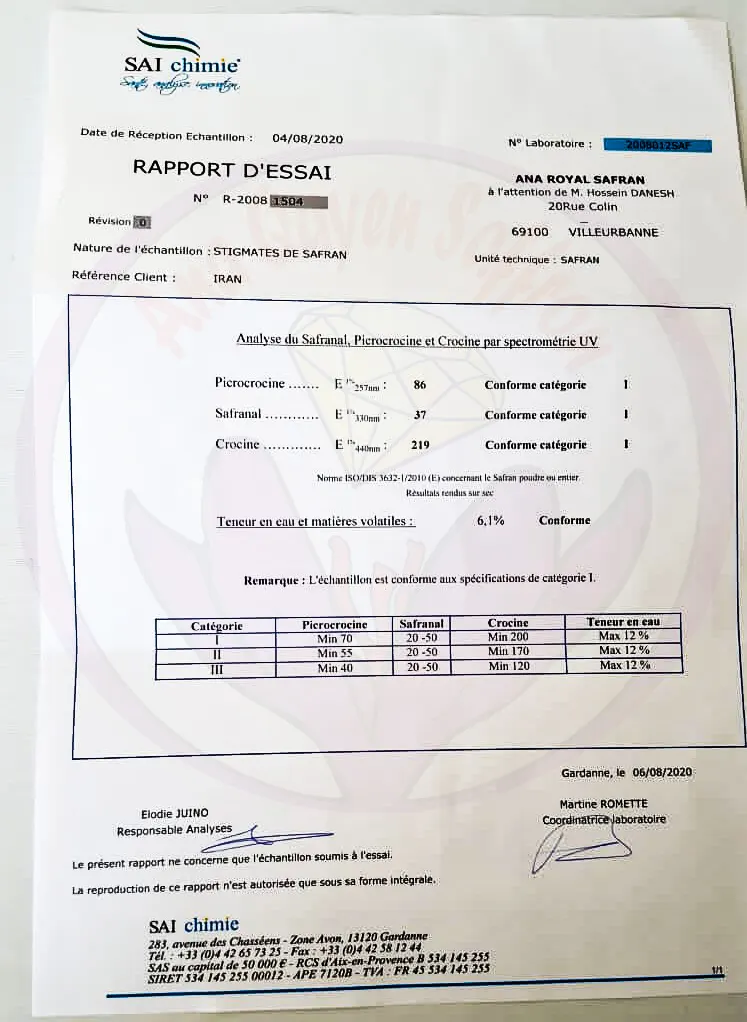 Also, our saffron is packaged in different and luxurious packages. You can see our different packing below. You can buy saffron in bulk with these packages in our online shop. You can also find us on social media via Instagram, Facebook, Linkedin, Pinterest, and Youtube. In the following, you can see our different packaging of saffron.