The store of Ana Qayen saffron in Chile works with strength and provides services to all and has presented the best type of saffron all over the world and people who buy and prepare it are very satisfied with its quality. It is considered an excellent product, which makes us happy.
Price of saffron in Chile
The price of saffron in Chile is a topic that many people are looking for. Due to high fluctuations in the price of saffron in Iran, it is not possible to say the exact price. But the price range can be mentioned. The price of saffron in Chile is 4000 dollars per kilo. This is the wholesale price of saffron. If you have ever had the experience of buying saffron in Chile, you know that the wholesale price is always lower than the retail price.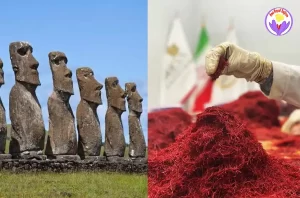 In the meantime, if you are from another country, you can see the price of saffron anywhere in the world on the Iranian saffron price page. Also, in addition to bulk saffron in Uruguay, we also offer saffron in the form of suitable gift packaging. We definitely recommend that you visit the Buy saffron online page.
But if you have smaller quantities of Iranian saffron in Chile, it is not a problem and we can provide it for you. The price of saffron per gram in Chile is 6 dollars. This price may also change today. For the exact price, you need to contact our experts through WhatsApp to inform you of the exact price of saffron in Chile.
[njwa_button id="1780″]
[njwa_button id="1782″]
If you are looking to buy saffron in Chile, you can easily buy up to 500 grams of saffron from Chile through the section below and we will send it to you in less than a week. (It is possible to buy through PayPal.)
In the table below, you can see the prices of saffron in Chile in terms of kilos and grams.
| | |
| --- | --- |
| The price of saffron in Chile per kilo | 4000 dollars |
| The price of saffron in Chile per gram | 6 dollars |
Saffron in Chile
Statistics show that the sale of saffron in Chile is very high. This plant is so valuable that it has many fans all over the world. That is why saffron is the most expensive spice in the world. This spice is used in a variety of foods. Saffron is used to flavor food. Also, saffron is used in a variety of teas and syrups because of its delicious taste of saffron.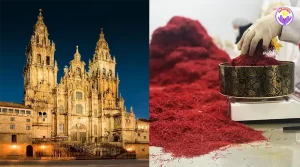 Knowing the valuable properties of saffron will help you, to buy saffron in Chile with peace of mind and considering the very high quality of saffron and the fact that this very valuable product cures many diseases and for example, It is considered as excellent for people who have stomach problems. It is considered a first-class product.
You must have noticed by now that Ana Qayen saffron is one of the largest suppliers of saffron in Chile and all over the world. We can deliver Iranian saffron to you in Dubai as quickly as possible through Dubai.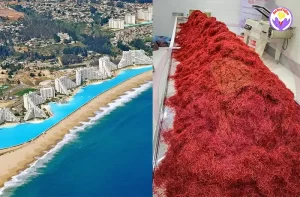 In the video below, we are sending 150 kilos of Iranian saffron to one of our customers in Kuwait.
Selling saffron in Chile
There are different types of saffron in Chile, which we will briefly introduce below.
Dasteh saffron in Chile
Dasteh saffron in Chile is the main strand of Iranian saffron. When the farmer picks the strands of the saffron from the petals, he dries them and puts them together. The top part of these strands is red and the bottom part is orange.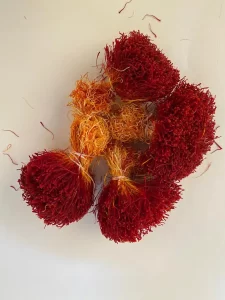 Poushal Saffron in Chile
As you can see from the figure above, if the farmer cuts the stigma from the part lower than the red part, it is called Poushal saffron. In this type of saffron, you can see a yellowish strand.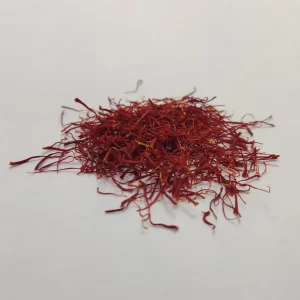 Sargol Saffron in Chile
If the farmer cuts the top red part of the stigma, it is called Sargol saffron (which means the tip of the flower in Persian). Therefore, this type of saffron is all-red. The overall color of this type of saffron is between 210 to 260 units.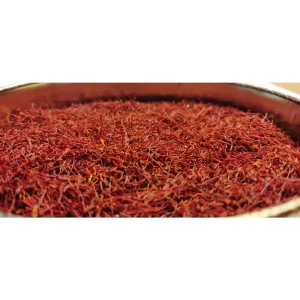 Super Negin Saffron in Chile
This saffron is actually a type of Poushal saffron. if the farmer separates the thick strands of red stigma, this type of saffron is produced. Many companies use this type of saffron for export and have the best appearance and color among all types of saffron. Ana Qayen saffron also uses this type of saffron for export.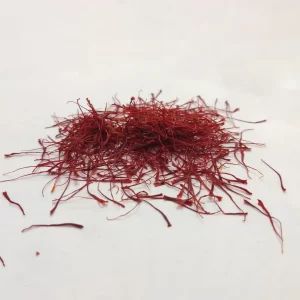 Konj saffron or White Saffron in Chile
The white part attached to the end of the Sargol is called the saffron root or white saffron. The color of these strands is light yellowish-white. Saffron root in Chile is also famous for Konj saffron.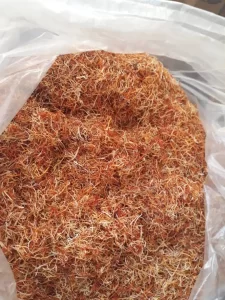 According to what was mentioned before, you can see different types of saffron in the picture below.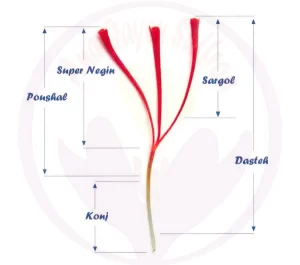 Saffron price in Chile
The price of saffron in Chile is the same as in other countries. The price of saffron is not fixed anywhere in the world and is constantly changing. This price depends on the exporting country of saffron. Since most of the saffron in Chile is imported from Iran, the price of this spice always changes.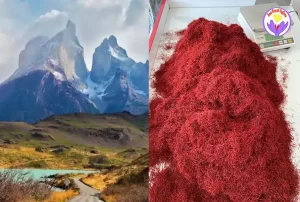 Also, it should be noted that all the products of Ana Qayen Company are harvested from this city. The main branch of our company is located in Qaen.
The next important factor that plays a decisive role in the price of saffron is the type of saffron. Saffron is sold in 5 different types: Negin, Sargol, Pushal, Dasteh, and Konj.
Each of these types has different features and applications. Negin saffron has the highest quality among the types of saffron, so it has the highest price. On the other hand, corner saffron has the lowest price.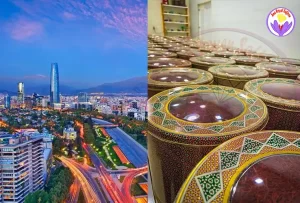 Sales of saffron in Chile
Of course, it is worth mentioning that the price of saffron in Chile depends on two important factors. One of them is the place of saffron planting. Iranian saffron has a very high quality due to the climatic conditions in Iran. In Iran, saffron is cultivated in different cities, but saffron in Qaen city has the best quality. Many people in this city as the city of saffron.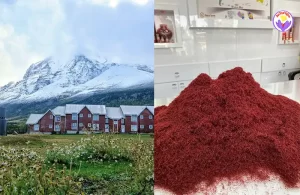 You can hear about saffron in Chile in the voice below.
About Ana Qayen in Chile
We are a supplier of Iranian saffron in Chile and we supply saffron from the best fields of saffron in Iran. It should be mentioned that nearly 90 percent of saffron in the world is produced in Iran. We have also an agency in Lyon, France and you can also buy our saffron in Europe.
Apart from saffron, we also supply other products from Iran including pistachio, rosebuds, Mazafati Date, and barberry. If you want to buy any type of product from Iran, we can supply you. You may contact us via the Contact us page or WhatsApp. Also, you may see our different saffron packaging on our Buy saffron online page.
When you want to buy saffron in bulk, you should be sure about the quality of the saffron that you are buying. Our saffron has got a European certificate from SAI CHIMIE lab which is one of the most famous labs in Europe.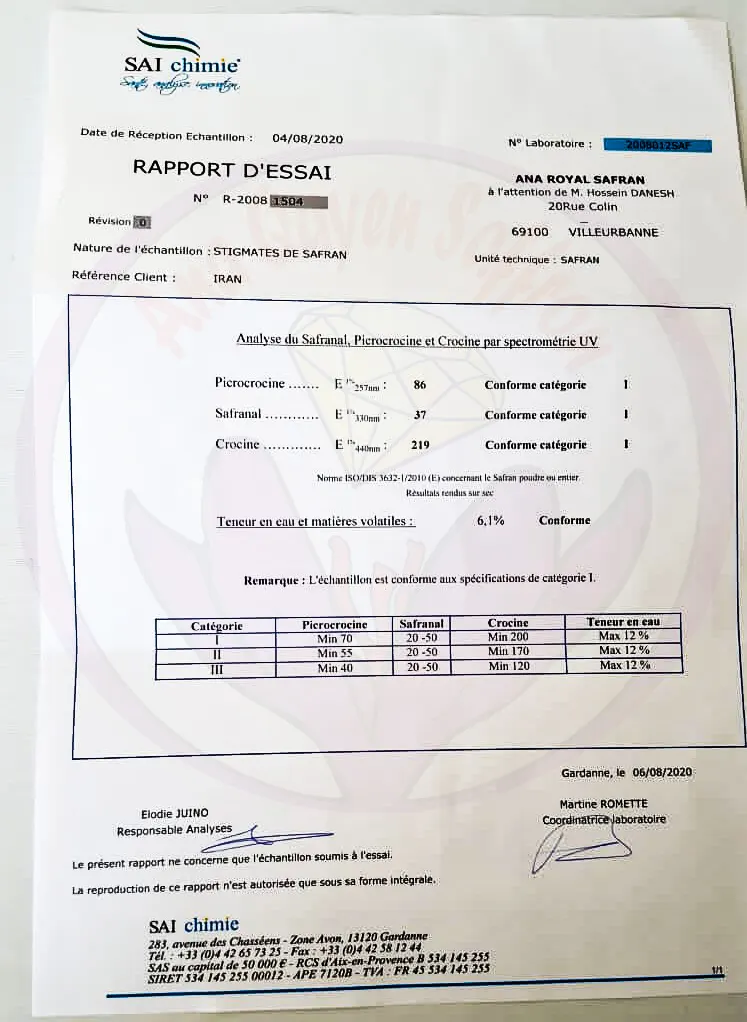 Also, our saffron is packaged in different and luxurious packages. You can see our different packing below. You can buy saffron in bulk with these packages in our online shop. You can also find us on social media via Instagram, Facebook, Linkedin, Pinterest, and Youtube. In the following, you can see our different packaging of saffron.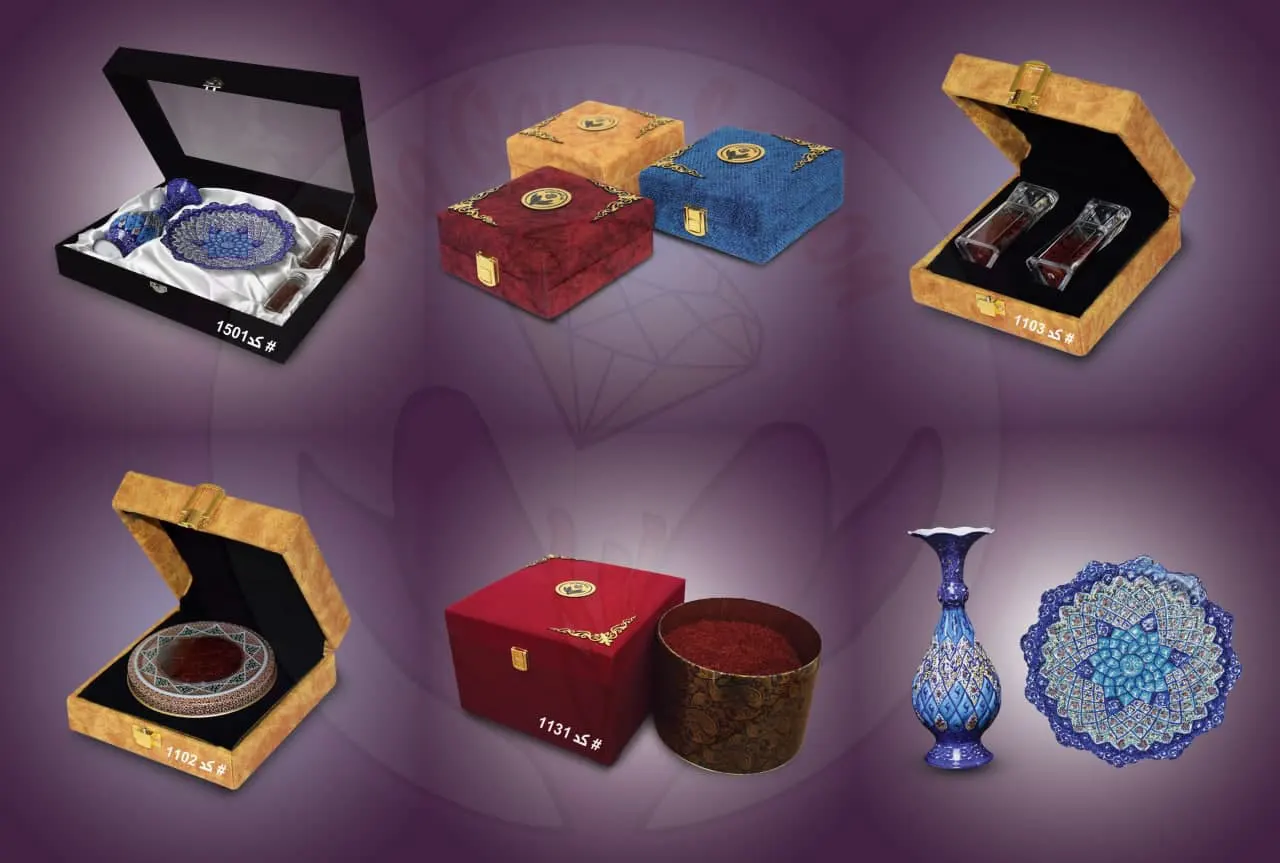 You may find there article useful.
Supplier of wholesale saffron in Mexico | Prices and where to buy