In this article we will review the benefits of saffron for irregular periods.
Is it recommended to use Saffron for irregular periods?
Do you have irregular periods? Saffron can help you. Saffron has invigorating and regulating properties, and its brew has important effects in treating menstrual disorders.
Saffron flower has three colored strands in the center of this plant. The strand is dried and pulverized. Approximately 75,000 saffron flowers are harvested to obtain 1 pound (450 g) of saffron powder. Therefore, this spice, which has healing and soothing properties, is the most expensive spice in the world. This plant has the highest growth in the Mediterranean region (Iran is the biggest producer of this spice and supplies 90 percent saffron of the world).
Saffron has long been used as the main flavoring of food. It is also used in some cosmetic creams. In ancient times, saffron was known to increase appetite and help digestion in pregnant women.
Modern research shows that saffron can be used as an antioxidant to improve the immune system and increases energy levels.
But the same useful plant can be dangerous during pregnancy. Excessive consumption of saffron in pregnancy increases the risk of miscarriage. The best solution is to talk to your doctor about using saffron (You can also read this article as to the consumption of saffron during pregnancy).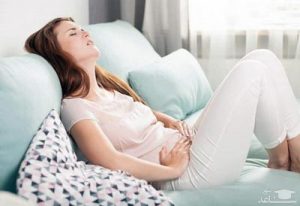 Saffron for irregular periods
Consume saffron during menstruation!
The main and most important compounds of saffron are the yellow, bitter and fragrant compounds that are effective in treating irregular periods (menstrual disorders) and depression.
Proper consumption of saffron, which contains yellow compounds (crocetin derivatives), can control the production of serotonin in the brain and treat menstrual disorders (irregular periods) and depression.
The yellow compounds of saffron (crocetin derivatives) are well soluble in water; Picrocrocin is one of the bitter compounds and the most important combination of aromatic substances (essential oil) is safranal.
Saffron has invigorating and regulating properties, so brewing saffron and consuming 2 to 3 cups in 3 times a day has important effects in treating menstrual disorders and thus saffron for irregular periods is recommended. Saffron stimulates menstruation and soothes back pain caused by menstrual disorders.
The cause of premenstrual symptoms and depressive symptoms is changes in serotonin activity. Saffron affects the chemical serotonin in the brain and how it works.
Serotonin is a neurotransmitter that plays an important role in sleep, mood and behavior, appetite etc.
Binding of serotonin to some stimulus cells indicates signs of depression; In addition, biological conditions and certain factors such as reproduction, genetic hormones, pregnancy, childbirth and menopause affect depression.
In the process of depression in the brain, we face a lack of serotonin concentration. People with low levels of serotonin in their brains are more likely to turn to colored foods (saffron) to boost their mood, which increases serotonin in the brain, thereby reducing depression.
In this article we reviewed some benefit of saffron for irregular periods.
Do not use saffron during pregnancy. Please consult with your doctor about that. You may also read this article about the consumption of saffron during pregnancy.
About Ana Qayen saffron shop- Ana Royal Intl. Co.
We are one of the biggest suppliers of the Iranian saffron. We export tons of saffron annually. We have a company based in France named Ana Royal Intl. Co. You can easily order pure Iranian saffron from this website. You can easily be in touch with our sale team via WhatsApp. You can also leave us a meassage on Contact us page.
You may also read other papers on saffron on About saffron page.
W also have an Instagram and Facebook page. It would be our honor, if you'd follow us on these pages. You can also follow us on other social media like YouTube and Linkedin.